I feel the same way about wearing lipstick as I do about wearing heels: a must for special occasions, but not something I feel like dealing with on an average day. But since I look better with at least a little color on my lips, I've made it my mission to hunt down the best not-quite-lipstick that I'm happy to pair with my jeans and T.  The semi-sheer, hydrating shade won't dry out lips like fully pigmented lipstick can, and since it's e not as bold as, say, a scarlet red, you have some wiggle room when it comes to application (go ahead, skip the mirror) and touchups (read: no rush to reapply after eating a sandwich). Here is the one you can swear by:
Burberry's Lip Velvet Crush: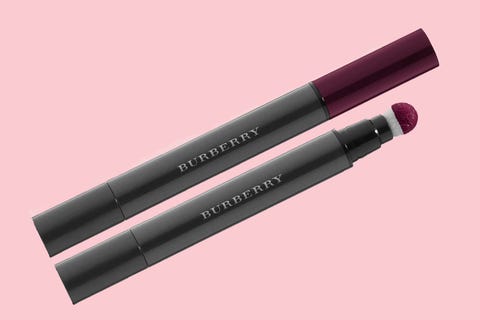 The formula is housed in a twist tube that requires you to turn it a dozen times before the pigment seeps into the cushion-tip applicator, and I've always found that click, click, click sound highly annoying. But that stopped mattering once I realized how rich and creamy the color looked when I ran it over my lips. 
The formula is unique think : an oil-lipstick hybrid—and although it looks semi-shiny after you apply it, it dries down to a matte finish that fades evenly into a long-lasting stain. The best part? Unlike the majority of matte lipsticks that leave your lips dry and tight, this formula felt like virtually nothing, to the point where I forgot I was wearing anything at all. It's a lipstick that doesn't feel like lipstick.
After a week of experimenting with the formula, I'm even more in love with its versatility. Blot it across your lips with your finger, and you're left with the prettiest wash of color; layer it on straight out of the tube, and you've got yourself a bold, fully opaque look. The stain comes in eight hues (including the perfect brick red and a true berry). In short it's the perfect one for any lipstick hater!