Is jewelry a decoration or an art form? The truth is it can be both; and the art of the jewel is proved definitely at Masterpiece London, the leading international fair for art and design, which opens next week in the rich and beautiful surroundings of The Royal Hospital Chelsea. Here the small-scale jeweled artistic body of work holds its own among fine art strong cloths for paintings, building tents, etc. and sculpture from a time long, to the present day. You can view very unusual pieces created for the elite of a time from long ago – as well as have the opportunity tosee colored diamonds and natural pearls that are as rare as a Titian or Van Dyck, while tracing developments in design clearly connected with or related to our modern life styles, and new technologies which push the idea of what very valuable can be. Here are the five important changes to look out for as you look at the fair..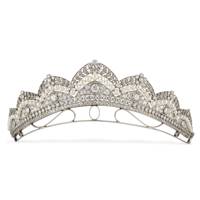 Tiaras
A tiara is the highest pitch of the jeweller's art so don't miss the opportunity to see the stately Belle Époque pieces at Bentley & Skinner, the kind that inspired Chao, including one magnificent decorative head piece with natural pearls and old-cut diamonds arranged for a floral effect. Something old often carries with it the bonus of an interesting provenance. Empress Eugenie of France wore a Second Empire archeological revival coral and gold Spartan diadem in a Winterhalter's 1864 portrait, which bears a remarkable similarity to one on show at Bentley & Skinner's stand.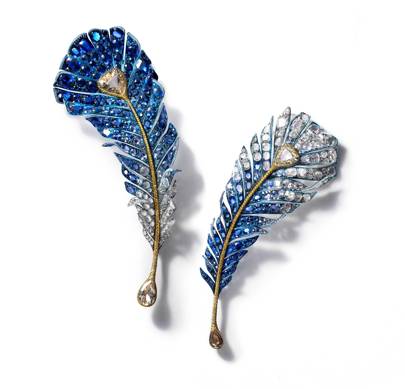 Feathers
Quills are a major style theme this season and creator Cindy Chao, naturally introduced to an imaginative group of modelers and stone workers, has made a wonderful Royal Feather Brooch in her Black Label Masterpiece arrangement, roused by illustrations of nineteenth century French ladies wearing feathered decorations in their hair. "My test", she says, "was to make something really featherweight." To make a naturalistic shading range of Blue Bird quills she utilized 750 sapphires in nine shading inclinations, with huge focal jewels, set into lightweight titanium. "Pieces can rise above their capacity," trusts Chao, "with choice gemstones, imaginative structure and exceptional craftsmanship, in this way changing into extraordinary centerpieces." Also visit the Verdura remain to see Sicilian-conceived originator Fulco di Verdura's 1940's stylish interpretation of plume ear cuts.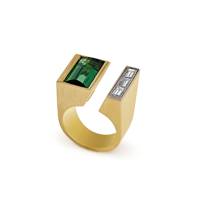 Historical art movements, which still influence the way we live, are distilled into small-scale jewels. This year marks the 100th anniversary of the Bauhaus movement whose clean lines and geometric forms are visible in the work by Francesca Grima, daughter of the great English modernist jeweller Andrew Grima, in orderly green tourmaline and diamond rows. "My father's designs with textured gold wire and brickwork were inspired by Brutalism more than any other movement," Francesca explains, "but I'm motivated more by Bauhaus design which is easier on the eye." Milan-based Sabbadini's striking coral and onyx-squared earrings are also abstract perfection. It was the art-deco movement that inspired Elaine Fattal to reimagine a vintage brooch as a contemporary cubist-looking sapphire and diamond Metamorphosis ring, and a vintage high jewellery emerald bracelet by Van Cleef & Arpels exhibits an art-deco frieze of geometric motifs in round, square, baguette and bullet-cut diamonds.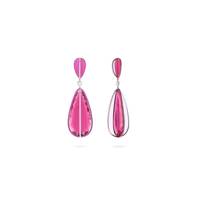 Pink
Fabio Salini's new collection of highly polished pink surfaces is quite simply electric. The earrings created with rubellite, rhodolite, kunzite and pink diamonds reflect even more "pinkness" from the already flushed pink titanium polished mirror surfaces. Van Cleef & Arpel's new modern Brume Saphir Rose glows with a supple cascade of pink sapphires from the softest pastel shades to a dark blush and Boghossian's Kissing necklace – with matching earrings – employs intense pink and brilliant white diamonds inlaid in mother of pearl, side by side, to spark pink lights between one another. At Chatila a Cleopatra cuff snakes in diamonds up the arm glimmering with subtle pink from its rose-gold setting.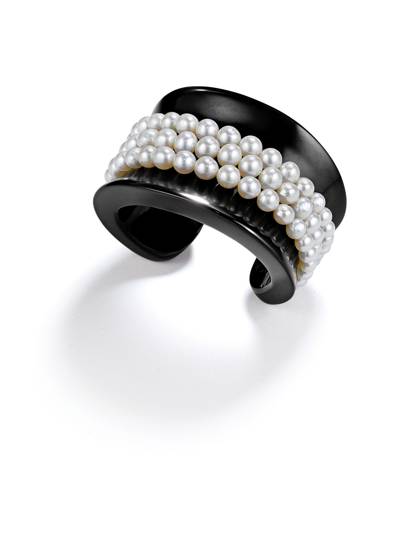 The Uncommon
Natural salt-water pearls are rare as the proverbial hen's teeth so view them at the Moussaieff stand with her rare natural fancy vivid pink diamonds. And I love the unusual mix of materials used by great 20th century designer Suzanne Belperron such as black jade with pearls, grey agate and carved rock crystal in striking cuffs. Small they may be, but these jewels demonstrate a large artistic contribution to the fair.