Recently, the Senorita Star, known as Camilla Cabello wrote a heartfelt message to her followers and fans on Instagram how cellulite is normal and the whole idea of "airbrushed bodies and airbrushed skin" is fake.
The 22 year old singer, former member of the famous band, Fifth harmony took some time off social media because she wanted to avoid all the negative and toxic posts that hurt her feelings. However, Camilla was trying to celebrate her 2nd anniversary of her hit-maker song "Havana', when she came across a troubling post which was meant to body-shame her and this made the singer extremely anxious. Only reading the headline of that posts made her feel insecure about the pictures that might be in that article.
"I haven't gone on social media AT ALL with the conscious intention of avoiding things that hurt my feelings, but for a second I forgot while trying to find a pic to post about it being Havana's 2 year anniversary and my eyes accidentally ran over a headline of people body shaming me"
She later wrote, ""But then I was like… of course there are bad pictures, of course there are bad angles, my body's not made of f–king rock."
She took this to Instagram and told her fans how fake has become the new standard and whatever size you have is perfect. She further said how fat is normal and everyone is beautiful and natural.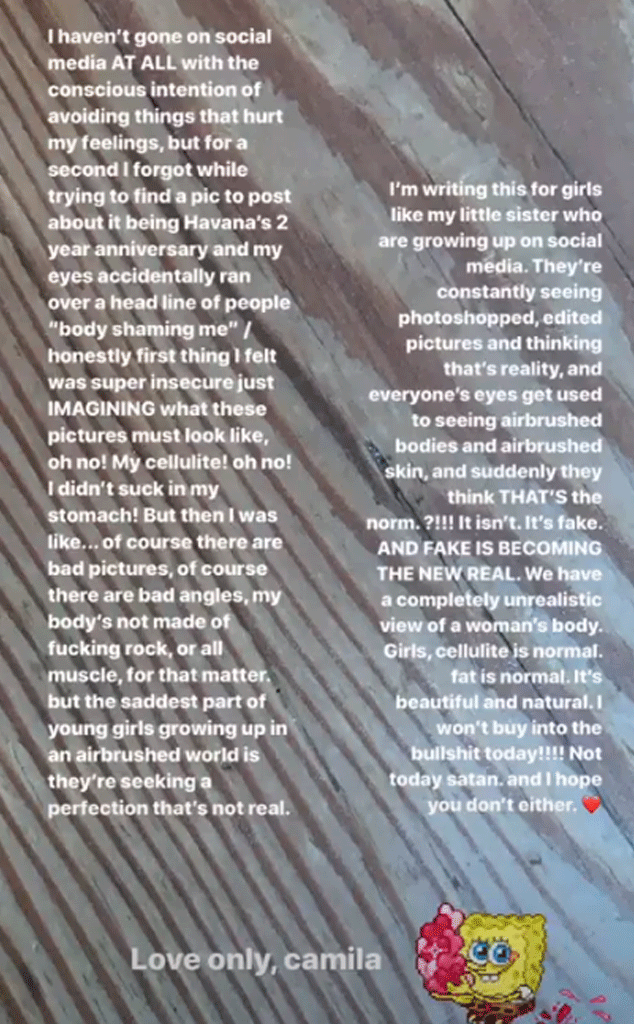 ALL HAIL THE QUEEN!