Are you a makeup junkie? Then you just can't ignore the most expensive foundations of all time:
La Mer, Soft Liquid Long Wear Foundation – $110
This foundation's silky, weightless formula creates a beautifully natural finish and helps skin maintain balance throughout the day. The long-wearing, natural, flexible coverage makes pores and imperfections virtually disappear. Skin is visually plumped with hydration, and lines and wrinkles appear softened. This product hydrates, energizes, and soothes one's skin. Sea-sourced Soft Velvet Ferment softens for a flawless finish, while SPF and antioxidants protect.
Tom Ford Traceless Foundation Broad Spectrum SPF-15 – $85
This foundation contains micronized pigments to achieve sheer coverage, while the Infusing Complex nurtures the skin and helps support natural cellular vitality. The foundation offers medium coverage with a luminous finish. SPF broad spectrum sun protection shields skin from UVA/UVB damage.
Dior, Capture Totale Foundation – $82
A sun-protecting serum that helps recapture the luminous, radiant look of youthful skin. It blurs imperfections and helps to minimize visible signs of aging while you're on the go, leaving skin looking flawless and luminous while protecting with SPF 50.
Guerlain, Lingerie de Peau Powder Foundation Compact – $69
A nude powder compact foundation that retains moisture and gives a matte effect. It leaves skin with the ultimate soft-focus effect and flawless finish. This foundation not just covers your skin but also treats it with the moisture retaining formula.
Giorgio Armani Designer lift smoothing foundation – $67
Armani's unique micro-fil  technology drapes the face with an "ultrafine micro-lifting matrix. This foundation's  velvet filters immediately lift, soften, and firm the skin surface. A blend of two micro-fil powders illuminates the look of the skin, and it's custom-formulated with exclusive Prussian blue pearl pigments to assist with intense depth and luminosity, reviving skin and correcting color irregularities, while also relieving dullness. It creates a soft-focus effect that emits a youthful-looking glow.
Koh Gen Do's Aqua Foundation – $66
A high-definition, long-wearing mineral foundation formulated with minerals. This skin-conditioning foundation smoothes and covers imperfections while feeling weightless and comfortable.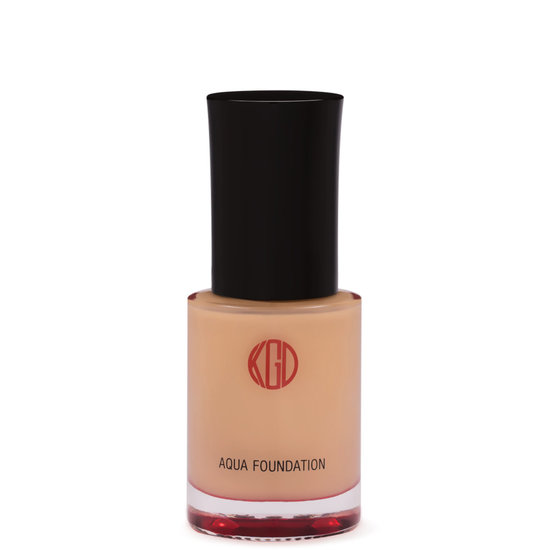 Bobbi Brown's Intensive Skin Serum Foundation SPF 40 – $65
A long-wearing, super-silky foundation serum that floats over the skin's surface for flawless yet natural-looking makeup coverage. This high-powered formula lets skin appear fresher and younger. It has an ultra-silky texture, and it glides onto the skin's surface for a flawless yet natural look that lasts. Formulated with SPF 40, it supports antiaging and creates a smoother, firmer, and more lifted look, while the ultra-fine pigments hide imperfections without settling into fine lines.
Surrat Beauty's Surreal Real Skin Foundation Wand – $65
The Surreal Real Skin Foundation Wand leaves your skin looking flawless. Its innovative design makes application easy, and it instantly melts into skin, reducing the appearance of pores and fine lines. With a number of shades to choose from, it's perfect for every skin tone.
Giorgio Armani Luminous Silk Foundation – $64
This award-winning foundation is formulated with micro-fil technology, producing a low-density product that pairs high-impact pigments with weightless texture.
Guerlain Lingerie De Peau Natural Perfection Foundation SPF 20
Guerlain Technology and Bio-Fusion micro-mesh, a combination of contouring and smoothing stretch fibers that are infused with natural silk and linen fibers so that they're in perfect affinity with the skin. Hydrating agents provide softness and comfort throughout the day. Choose from a universal range of 14 natural-looking shades for every skin tone: cool, neutral, and warm.