On the occasion of Pakistan day, A lot of our stars made us proud by getting what they deserved. Yesterday in Islamabad Our famous singer Shehzad Roy was honored with his second Sitara-e-Imtiaz on March 23, 2018.
Many Celebrities and fans poured in to congratulate the musician. Not only this Sarfraz Ahmed also became the youngest Pakistani cricketer to receive the Sitara-e-Imtiaz, the third highest civil award of Pakistan. 30-year-old Sarfaraz, who led Pakistan to the Champions Trophy title last year, was conferred with the award by Governor Sindh Mohammad Zubair at the Governor House in Karachi.
Former captain Younis Khan was also awarded the Sitara-e-Imtiaz as a nation celebrated Pakistan Day.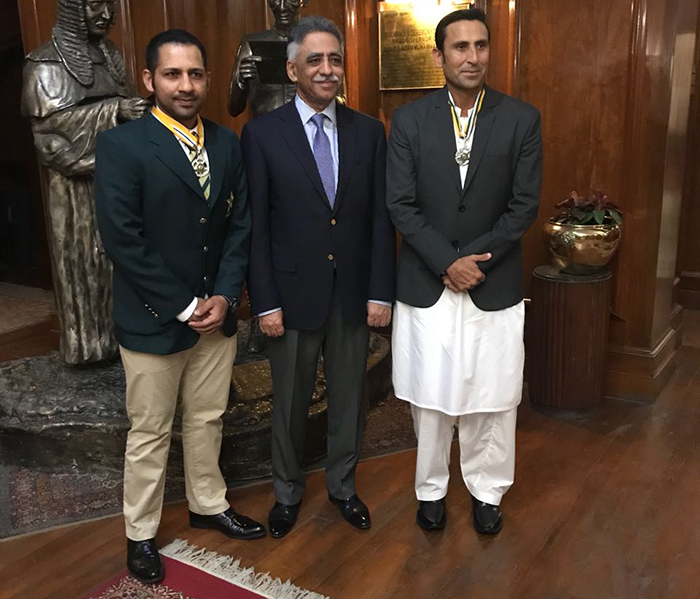 Two other cricketers Misbah ul Haq and Shahid Afridi were also nominated by the government to receive the Sitara-e-Imtiaz this year.
Meanwhile, acclaimed British-Pakistani writer and journalist Mohammed Hanif also received the award from President Mamnun Hussain.
Previous recipients of the Sitara-e-Imtiaz include singer Ghulam Ali, poet Ahmed Faraz, filmmaker Syed Noor, writer Saadat Hasan Manto, former cricketer Inzamam ul Haq, architect/heritage conservationist Yasmeen Lari, actor Waheed Murad, artist Jamil Naqsh and novelist Bapsi Sidhwa.