We all would freakishly love to find our doppelganger once in our life. Not only will it be awesomely mind-blowing but mind-boggling as well. The concept of having 7 look-alikes of of every human being alive, we simply can't ignore the fact of how much we would actually want to meet one for sure.
Talking about doppelgangers, the internet has gone out of control with this picture of a baby boy that shockingly looks EXACTLY like none other than our former and disqualified prime minister Mr. Nawaz Sharif! Yes, yes we are talking about the picture that's going crazy with the tagline, "MUJHE KYUN NIKALA?"
As soon as the picture came about, there were mixed impressions, where some couldn't help but bring the humour our for this weird looking baby Nawaz Sharif, while others shut their comments and went about with simple comments and getting stuck into any fun. I wonder if this is photoshopped or for real?!
But, one thing's for sure, this is not for the first time that we saw Nawaz Sharif's doppelganger. I hope you may all recall our female version of the former PM. Nonetheless, here are a few comments that our social media users bombarded with humour and on point words:
The "Mujhe Kyun Nikala"

Bhutto zinda ho ya nai, Nawaz Sharif tw waqi har ghar si niklega!

And there were some with on point words

Exactly….why???

And then there were some that simply went too ahead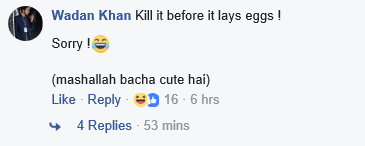 Well, one thing's for sure, the parents will still love their baby no matter who he looks like. But, this is surely a little too awkward!