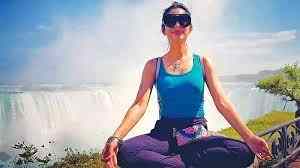 Pakistan's singer Meesha Shafi, who had been under headlines after the harassment controversy with Ali Zafar, is giving major fitness goals to her fans.
Taking to Instagram, Meesha has posted a snap revealing her fit body and also told fans that she is a yoga teacher as well.
The caption read, "Almost a yoga teacher. Might teach 'yoga with a focus on mental health' to a few people one on one if schedule permits. Interested?"
The singer also said that she will train the ones who are willing to learn yoga but if her schedule permits.