Overview
Are you self-conscious or ashamed of your skin because of acne scars?
While some people are lucky enough to have blemishes that fade away without leaving a trace, others are left with visible memories of previous outbreaks, which may be quite distressing.
As if acne wasn't terrible enough, a pimple scar might take weeks or months to disappear. If you feel stubborn scars have really no chance, think again. On the bright side, several treatments can help you erase or reduce these scars, making them less visible and boosting your self-confidence. Acne is an inflammation, therefore keep that in mind. The degree and length of skin inflammation play a big role in scar formation, therefore postponing acne medication raises the chances of scarring.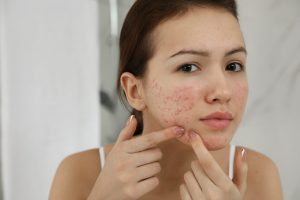 Prevention of Acne Scars
Improving acne care with a proper skin-care routine, a balanced diet, and an appropriate treatment plan is the best way to avoid acne scars. Over-the-counter products or face washes with active acne-fighting chemicals like salicylic acid or benzoyl peroxide should be used to treat acne. If these don't work, consult a dermatologist who is board-certified. Preventing acne also requires treating your skin gently and avoiding activities that irritate it and aggravate irritation. Don't pick at your acne, and stay away from harsh skin-care products like exfoliator, loofahs, and washcloths.
harsh skin-care products like exfoliator, loofahs, and washcloths.
Natural Remedies For Acne Scars?
Natural treatments such as apple cider vinegar, lemon juice, coconut oil, and other items are ineffective in decreasing scarring once it has developed since acne scars are caused by changes in the number and structure of collagen and elastic fibers in the skin.
Acne Scar Treatments By Dermatologists
The following are some of the most common treatments for removing or improving acne scars:
Dermabrasion This efficient scar removal procedure resurfaces your skin and removes or reduces the depth of scars using a high-speed brush or other device. The skin might take up to three weeks to heal.
Microdermabrasion A dermatologist uses a portable instrument to remove superficial skin in this less-intensive kind of dermabrasion. There may be more than one treatment necessary, but there is no downtime.
Chemical Peel A chemical peel involves the application of a chemical solution to the skin. It eliminates the top layer of your skin, leaving you with a smoother complexion. After the treatment, you may feel redness and peeling for three to seven days.
Laser A laser resurfacing treatment can be used by your dermatologist to remove the outer layer of your skin and shape acne scars. Healing might take anywhere from 3 to 10 days.
Micro needling This treatment, also known as collagen induction therapy, involves repeatedly pricking the skin with small needles to induce the creation of new collagen. Scars may be less visible as a result of this. Wrinkles, stretch marks, and fine lines can all benefit from micro needling. The redness on your skin may persist a few days.
Punch excisions This form of skin surgery eliminates acne scars by excising, or cutting out, each scar one at a time. Stitches or a skin transplant might be used to close the hole created by the incision. A skin transplant fills up a damaged region with a tiny piece of normal skin (typically taken from behind the ear). After the operation, there may be some bruising for one to two weeks.