Pakistani Actress Ayeza Khan is really talented and has given outstanding performance in her every project. Again has won the hearts of fans by dancing like the Bollywood queen Madhuri Dixit, imitating her style from the music video of 'Aaja Nachle'.
Ayeza Khan is always been a top actress here because of her performance and looks, recently her new drama Laapata is on air and it's trending, she's playing a character of a TikTok user who makes videos all related to Bollywood. and we guess this post is also related to this drama. Earlier, Ayeza Khan had shared some of her photos in the guise of Madhuri Dixit on her Instagram account. She had a similar look to that of Madhuri's in her famous song 'Eik Do Teen' from the movie 'Tezaab'.
Expressing her desire to meet Madhuri, the Pakistani actress wrote, " "Oh what an exciting time that was. We have been blessed to see and dance along to Madhuri Dixit. What a phenomenal dancer and what an amazing actor, who could shake your heart with just a tear in her eyes."
Sharing the video, the actress wrote, "Aaja Nachle, because it's trending"
https://www.instagram.com/p/CSE-fmdDG79/?utm_source=ig_web_copy_link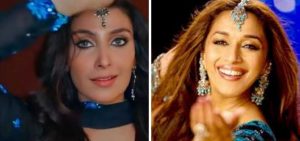 It should be noted that Ayeza Khan is at the height of her fame these days and through her super hit dramas and beautiful photoshoots she has become a superstar in the eyes and the heartbeat of fans. Ayeza Khan holds a special place in the Pakistan showbiz industry and is considered by fans to be a well-rounded, beautiful, dignified, and significant actress.