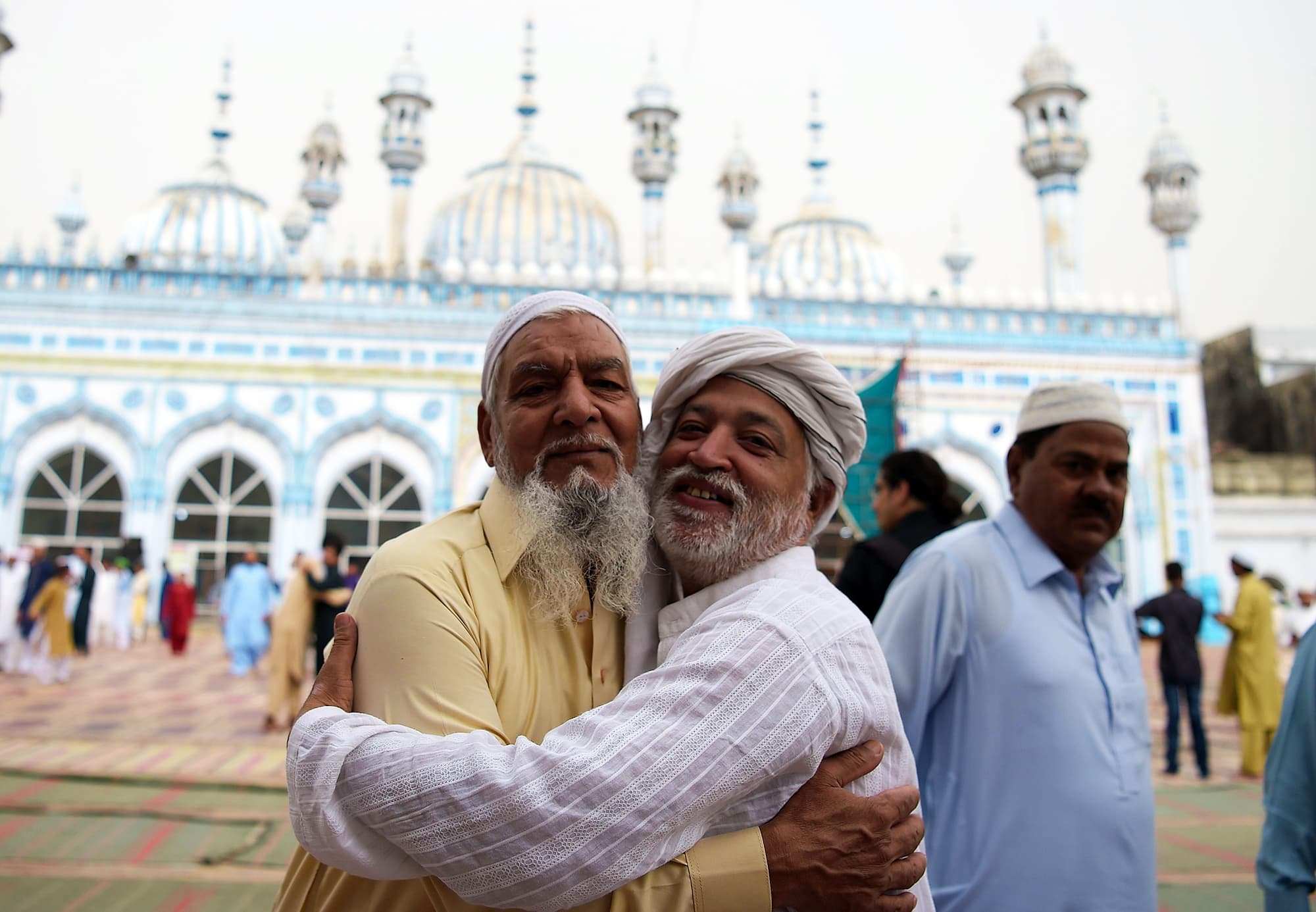 Pakistan Muslims exchange Eid greetingd after offering Eid al-Fitr prayers at the at the Jamia Mosque in Rawalpindi on June 16, 2018. Muslims around the world are celebrating the Eid festival, marking the end of the fasting month of Ramadan. / AFP PHOTO / AAMIR QURESHI
As Eid is around the corner, some people are hyped up to celebrate but lets not forget what the world is going through, the deadly coronavirus doesn't seem to be going away for any of us and if we talk about the people of Pakistan, the positivity rate us quite high and its increasing day by day, strict lockdown has been implemented all over Pakistan. Businesses are shut for a whole week, it looks like everything has come to a halt now.
To make it all worse, its Eid Week, hence the strict rules and regulations so the government has control over the coronavirus cases in the country. People are shatters because its Eid and its been a while since people celebrated something religious and so pious, individuals need an escape and what's better than Eid a gift from Almighty for obeying him and following his rituals by fasting for the whole month. God loves his people so he rewards them in the form of Eid.
Sadly, people can't celebrate the way they used to, no huge family gathering, no friends dinner, no children all excited about getting Eidi from their loved ones. But nonetheless, there are still few things/tradition people can yet to follow:
Sheer Khorma:
Covid is definitely not stopping us from having Sheer Khorma on the first day of EID, its a tradition which a lot of household follow, from elderly to little ones, there's not a single person who is not a fan. All the people after coming home from Eid name, look forward to having it with the whole family, Eid breakfast is definitely incomplete without Sheer Khorma. Well, at least this Covid Eid we won't have to skip on Sheer Khorma.
HUGS & WISHES
Covid is taking over and this is one of the major thing people will miss out this Eid, the hugs which will no longer be the same due to social distancing, staying 6ft away from each has no comparison to the way people hugged each other out on the day of Eid, celebrating their hearts out. Well, Covid has ruined a lot of things for us but something is better than nothing right? Lets greet each other with the same respect, same love, same enthusiasm but of course maintaining social distance and wearing masks at all times, its not necessary for you to physically touch someone to feel the love, its the connection between the heart and soul which matters.
EIDI
Well this is something which no one can even spend their Eid without, little ones look forward to Eid mornings solely for one reason, except for dressing up and all glammed up of course, EIDI! Getting Eidi is a ritual, appreciation from your loved ones, the elderly gives it to the little ones and not only that, brothers even give it to their married sisters and all kinds of different relationships. Its a beautiful feeling, where one feels complete around their families. Wonderful gesture in our religion.
There are so many families out there who won't be celebrating this Eid, due to their own reasons, maybe because of passing of a loved one, some are sick, fighting through this pandemic but one should never lose hope and always find their solace in Almighty. He's there and he is looking out for you and things do fall in place eventually.
A very Happy Eid Mubarak to everyone reading this, Keep celebrating!