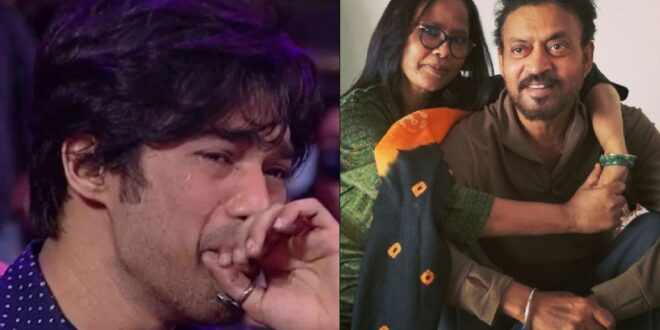 Indian actor Irrfan Khan passed away on April 29, 2020, leaving fans, family and well wishers in dismay. His wife, writer Sutapa Sikdar, and son Babil Khan, were left distraught, and today, Sikdar uploaded a poem on Facebook detailing just how much they miss Irrfan Khan.
She uploaded the poem along with a picture of Babil at an award ceremony he attended to receive a posthumous award on behalf of his father. He couldn't help his tears at the announcement. The poem, written in Hindi, speaks about the hole Irrfan's passing has left in their lives, and their struggle to keep up.
She wrote that Babil doesn't hold back his tears, instead cries hard and openly, because he is a 'karak launda', or strong boy. She wrote about how her son sees a change in the tides, recognising the role of protector that his father served for his family, while she herself became the caregiver. Now, he says, it's time Sikdar lives her life fully.
Speaking about how comfortable her son is with his emotions, Sikdar said she often finds him rolled up and swollen-eyed in the morning, having cried all night in memory of his father. When she confronts him, he owns up to it. He finds no shame in crying, and that's commendable courage, his mother says.
Babil has been active on social media as well since his father's passing, using the platform to share pictures and videos with his father, reliving the memories.
Babil is set to follow his father's footsteps into Bollywood, having finished his first shooting schedule for his debut film, an Anushka Sharma produced Netflix film.