It is definitely another huge loss for Pakistan after the saddening news of the legendary actor Abid Ali. The popular former leg-spinner, Mr. Abdul Qadir Khan passed away on Friday in Lahore due to cardiac arrest, aged 63.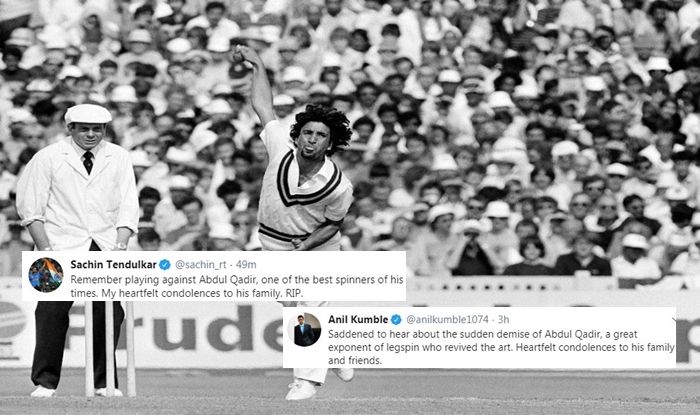 Being a stupendous bowler, Abdul Qadir represented his nation in two World Cups of the years 1983 and 1987 and played 67 Tests and 104 ODIs in total throughout his career of cricket. Moreover, there are a lot more achievements of him which he earned with huge respect for Pakistan. Post-retirement, Qadir with his evergreen enthusiasm served the cricket world as a commentator and as a chief selector.
His successes over the years just cannot be described in words. The son of Qadir also revealed the news and confirmed it by informing that the death was a sudden incident of a heart attack or cardiac arrest whereas his father never suffered from any heart problems. Believe it or not, life definitely is unpredictable!
The legendary cricketer was known for and was popular for his eye-catching dancing style of spinning the ball which made him achieve wonders throughout his journey of cricket. No doubt he has always led the name of his nation by emblazing it higher.
His fans and the entire cricket world cannot express the feeling of sorrow and are paying unstoppable and tremendous tributes for his contributions and for always making Pakistan proud.
They called him the magician for many reasons but when he looked me in the eyes & told me I was going to play for Pakistan for the next 20 years, I believed him.A Magician, absolutely. A leg spinner & a trailblazer of his time. You will be missed Abdul Qadir but never forgotten

— Wasim Akram (@wasimakramlive) September 6, 2019
Prime Minister @ImranKhanPTI expressed deep grief over the demise of renowned cricketer Abdul Qadir

Abdul Qadir's death has deprived Pakistan of a great cricketer who blazed the name of his country across the world :: Prime Minister pic.twitter.com/KfQHiU9HwW

— PTI (@PTIofficial) September 6, 2019
"Indeed we belong to Allah , and indeed to Him we will return "
Abdul Qadir the Legendary Cricketer and a Great human being. "باؤ" you will be missed #RIP #AbdulQadir pic.twitter.com/bwuzF1TcFF

— Muhammad Wasim (@MuhammadWasim77) September 6, 2019

The news is really shocking for everyone and we are deeply saddened by it. We pay our condolences to his family. You will definitely be missed!