Log..! ye ek wo lafzey jo apkey peda hotey hi apsey jor jata hai.
Ajj kal ke duar mey LOG kya kahegay na chahtey hoa bhi itna zarori hogaya hai ke aksar ap is dar se apney khoabon ko thukra detay hai.
Mujhey agar ek shop bhi kholni hai to mein pehley ye dekhunga ke agar mera khaandan walon ko mera doston ko pata chala to wo kya sochegay. Aksar hum tension mey bhi ajatey hai issi waja se ke log kya kahegay,
Meri nazar mey iski jaga hona chahiya tha ke "log kyun kahegay". Mera ghar ke masley log kyun solve karegay, meri zindagi ki pareshaani log kyun dur karegay.
Basically, logon ka kaam hai kehna, humey chahiya ke jo humarey liya behtar hai hum wo choose karey, kyun career bhi apney hi banana hai or kamiyabiyan bhi apko milni hai.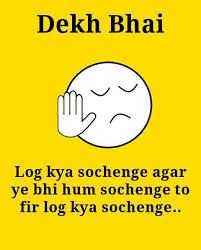 Unlogon ko kuch nh milna, bus har kisi ked il mey ye rehta hai ke wo kyun agey nikal gaya that's it.
Ek taraf wo log bhi hai jo apkey dost hai, apkey ghar waley hai or apkey rishtedaar mey se bhi hosaktey hai jo humesha apki Khushi ko mad e nazar rakhtey hoa apkay achey ke liya sochtey hain.
Ye wahi hai jo har kadam har pal apkey saat kharey hotey hai. They never let you down. Kabhi apko girta dekh ke apko uthaney ki puri koshish kartey hai.
Or phir atey hai wo log jo hotey to apkey saat hai, lkn ander hi ander                                                              apkey dushman hotey hai.Sab se bari baat inki khoobi ye hoti hai ke, apkey saat to hotey hai apkey samney apkey liya khush bhi hotey hai lkn ander hi ander apsey jaltey bhi hai…!
Bas karna ye hai ke MEHNAT or LAGAN ke saat wo karna hai jo apkey apney liya behtar lagta hai, kisi ne kya khoob kaha hai;
"Manziley chahey kitni bhi unchi kyun na ho,
Raastey humesha pairon ke neechey hotey hai"
Dusron ko bolney ka moqa hi nh do ke wo apkey har kaam mey dakhal andazi karey, bas keep your mindset clear or kamiyabi ki seeri charhtey jana hai.