We all have been aware of the very famous quote, "Consistency is the key" and here, we have an awe-inspiring couple Ahmed Ali Butt and Fatima Khan explaining it quite well on Nida Yasir's Morning Show recently.
On a question about how they both met and eventually tied the knot together, Ahmed Ali Butt shared his experience of convincing Fatima for around 8 years till the actual proposal happened.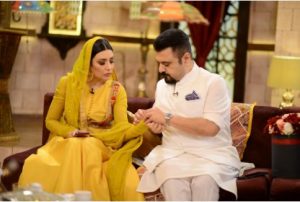 There is nothing sweeter than seeing Ahmad Ali Butt being consistent with his love and devotion towards the girl he wanted to be with for life.
Fatima Khan talked about how she was in London and every year, Ahmad wanted to come and visit her for the proposal but she kept refusing until the time Ahmad visited her with his Mother and found a way out to propose where she also realized that it would be difficult to live a life without him.
Ahmad had been so constant in being connected to her through and through, day and night through phone for eight years and we think it is the sweetest "hard to believe" love story ever.
Well, actions speak louder than words. Fatima herself shared something even more heartwarming about him that is, Ahmad being respectful and caring towards everyone including people in his family, friends, or his co-workers on sets and these are the traits she observed for all those eight years.
It amazed us, even more, when Fatima mentioned parenthood, how Ahmad is winning it gracefully setting an example of being an amazing father and how sometimes even she gets jealous of him for being such a great human being. Both the partners had a lot of words to praise each other and it looks like the pair was made in heaven.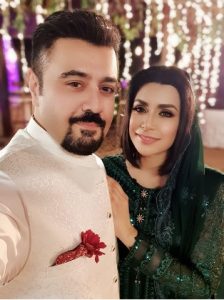 Ahmad also spoke about how beautiful is the connection between a husband and a wife. "The Almighty has created this bond for a reason to streamline the way to live a life. A man is not even closer to a woman when it comes to managing things singlehandedly including children, family, and all the relationships around," says Ahmad.
He also said that Almighty created women stronger while talking about Fatima when she gave birth to their child and how she managed to get back up with a strengthened and spiritual form of herself which is undoubtedly praiseworthy.
Fatima worked in the industry for 10 years before quitting it for higher studies in London. She worked as a Fashion buyer for 8 years and also started her fashion journalism career from London as "Fashionista Fatima" covering all major events and writing for leading magazines of Pakistan for years. According to Fatima, after coming back to Pakistan she met a True WaliAllah, her "Mentor" who taught her about Spirituality, Love of Allah and our beloved Prophet PBUH. Her efforts in last few years are definitely notable.
Ahmad has been in the industry for years and while having a family background of notable female artists including his grandmother, Malika-e-Tarannum Noor Jehan and his mother Zil e Huma, he remains humble, respectful, and considerate to people irrespective of anything.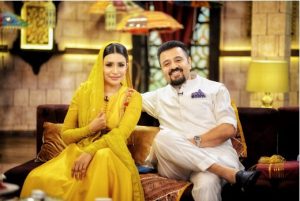 We have nothing but to say MASHA ALLAH to this adorable couple and we send them love and prayers