It's the rainy season and while rain can be a huge blessing, it can also be a huge disaster once it touches our skin. 
Especially if you live in one of the big cities then there is no saving your skin from the rain water. It can cause many skin allergies because of the dirt it carries along. Here are a few ways to tackle these skin problems in this weather:
Keep washing your face with fresh water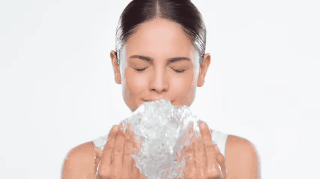 Honestly, the most important thing is to keep washing your face with fresh water. You might have many places to go since staying home is not an option. Whenever you are travelling, the dust and the rain water will touch your face. Make sure to carry a good face wash to wash all that dirt off and to look pretty and fresh like you always do!
Avoid any kind of imitation or fake jewelry
Wearing accessories might be a great idea but in this weather? Not so great! If your jewelry is made out of metal or alloys, once it comes in contact with the rain water, it might start eroding or corrosion. If this eroded jewelry is worn by you, then you can develop tiny skin rashes that can be really itchy.
Wear loose and light clothes
You might think that you have everything covered with an umbrella but trust me, you will still get wet. It can get very annoying. Therefore, every time you go outside, wear loose and light clothes that will not be tacky and can dry as soon as possible.
Don't wear tight shoes
The last thing you want is to develop any fungal infection on your feet and your shoes to smell. To avoid that, don't wear any closed shoes like sneakers that can get wet fast and absorbs all the moisture. Wear open strap sandals or slippers just for this weather to keep your feet looking beautiful like it does.
Wear a sunscreen all the time
You need to wear a sunscreen all the time. Although you might see no sun and you will find this useless, but once you step out of that rain water and notice yourself in the mirror, you will notice that your skin has become slightly dark and damaged because of all the oxidizing agents and toxic's present in the water. A sunscreen will add an extra layer of protection for your skin.
So, here's to a happy rainy season which you can now enjoy to the fullest!