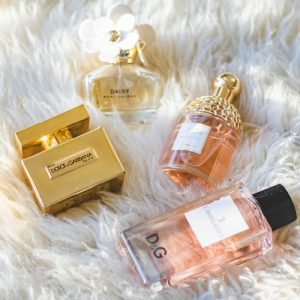 Everyone has one thing that they cannot live without. Some people are makeup gurus while others take pride in having an extensive shoe collection or investing in luxury bags. These things are a way we represent our selves and can become an important part of your personality. In the same way, I too, have that one thing I cannot absolutely compromise on and am always ready to invest in – Perfumes!
Yes, no surprises there. If you must know, I have always been a fan of high-end luxury fragrances since I was a child and there is no doubt that this passion, I hold for sophisticated perfumes is still as strong as it first was.
Here are a few perfumes that I use and am absolutely obsessed with and I thought I should tell you guys all about it. So, here I am to talk about some of my favourite, evergreen fragrances that you are bound to love.
Gucci Guilty
If there is a perfume that makes me super nostalgic, it is Gucci Guilty. The first time I came across this fragrance was on my mom's vanity table and I have never been able to let go of it since then.
It has been a signature scent for me since over a decade and I wouldn't replace it for anything else. One major reason could be that it reminds me of my mother and keep her memory alive which is why I cherish it so much.
Notes: Floral, soft spicy, fruity, patchouli, amber and fresh.
Chanel Bleu
I know, I know you might be wondering if I got confused myself with a men's cologne. However, that is not the case. If there is any cologne that I have been obsessing over for the past year, it is Chanel Bleu!
Even though this fragrance is designed for men, I fell in love with it and use it religiously. There has not been a moment when I was not complimented, every time I wear Chanel Bleu!
Notes: Woody, warm spicy, amber, smoky, aromatic, balsamic and fresh.
Mont Blanc Lady Emblem
If you are in search of something which is feminine, delicate, and sultry, look no further! Lady Emblem by Mont Blanc is different from the note profiles I usually go for but this one is surely a head turner.
The floral and musky fragrance lingers all day and makes you feel like you're walking through a field of the most gorgeous flowers on a lovely spring day. Plus point, the bottle adds an element of class on your vanity!
Notes: Fruity, musk, rose, woody, white floral, powdery, citrus, and tropical.
Bvlgari Goldea The Roman Night – Absolute
I was introduced to this fragrance by a co-worker and I must say it was one I couldn't forget.
So after asking her all the details about where I could find this, I couldn't resist and had to invest in a bottle for myself.
Not only does it come in a very elegant black bottle but has such a complex yet minimalistic fragrance, perfect for your nights out!
Notes: White floral, amber, patchouli, vanilla, earthy, smoky, woody, mossy, fruity and sweet.
Gucci Guilty Premiere
Now, to begin with Gucci has always released brilliant options when it comes to eclectic, delicate and seductive scents. One such perfume which from their exclusive collection caught my eye, Gucci Guilty Premiere.
Gucci guilty has always been my signature scent but the Premiere version made me change my mind!
Notes: White floral, woody, musky, citrus, powdery, fresh spicy and animalic.