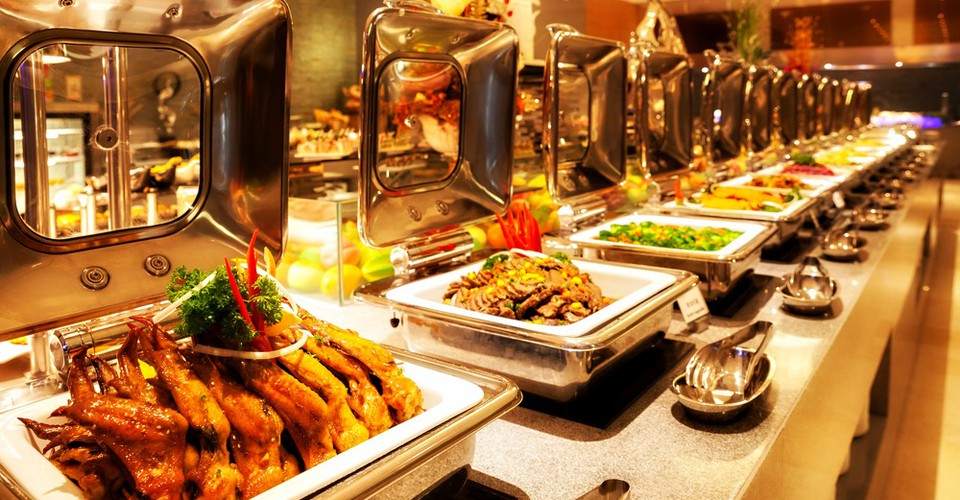 The only common thing that is on our minds during Ramazan is iftari. We're all quite aware with counting hours, minutes and even seconds to the evening meal and always making plans that what to break our fast with.
In Pakistan cafes and fast food chains offer countless deals like all-you-can-eat deals and mouthwatering offers which makes the decision of what to have for iftari a bit challenging. However, we've gathered a list of restaurants offering the best iftar deals this Ramazan 2021 to make the selection easier for you.
Here are 8 restaurants offering the best deals:
BBQ Tonight
BBQ Tonight is Pakistan's one of the most loved barbecue restaurants has an all-you-can-eat iftar buffet and you must not wait to try it. In Rs2000 per head, BBQ Tonight offers variety of items from the traditional pakoras and samosas to mutton pulao and malai boti. So, if you're one of those who prefers to have a proper meal without excessive oil then this buffet is surely for you.

Tao
Like every Ramadan, Tao is once again offering all you can eat deal. The Pan Asian cuisine's extensive and delicious buffet is priced at Rs2200+tax with complimentary iftar platter. If you're looking for a pause from the traditional iftar meals, then Tao has your back offering soups, noodles, seasfood and much more.

Kababjees
Kababjees offer Buffet for Rs2399 which may sound slightly expensive for an iftar, but what if we told you the amount includes iftar, dinner, Tandoor corner, salad bar, dessert bar and French fries to prawn tempura and sajji. Further, they are providing mineral water bottles, soft drinks and tea for free for the first time ever.

Lal Qila
Lal Qila's Iftar + Dinner buffet priced at Rs1200 for adults which is good for 1-2 person and quite pocket friendly. The buffet deal includes masala biryani, karhai, haleem and much more.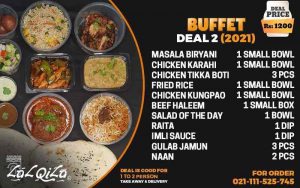 Kolachi
Kolachi is known as the Spirit of Karachi. Once again Kolachi offers delicious Continental, Lebanese, Bar B. Q., Chinese and Pakistani food with a stunning sea view and sky view. It is known as the perfect spot with the evening breeze and a dinner by the sea would be the best bit of anyone's day.  It is actually a Sensation by the Sea. The Iftar buffet is priced for Rs.1090.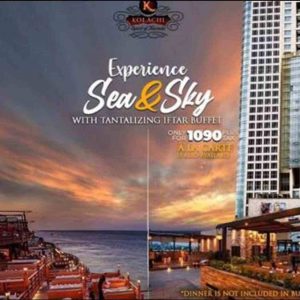 Zeytin Restaurant
If you are looking for Middle Eastern or Turkish restaurants in Karachi, you cannot ignore Zeytin. They have taken the exotic flavors of the Mediterranean seaside region through to Turkey & created an exotic dining experience you will never ever forget.

Chaupal
Chaupal is well known for its fascinating cozy ambiance and their buffet that comprises more than 99 dishes prized for Rs.1650 for adults and Rs.899 for kids plus tax.
Making your iftar extraordinary in a peaceful dining area with 50+ finger licking good food items to fulfill all kinds of cravings at a single spot.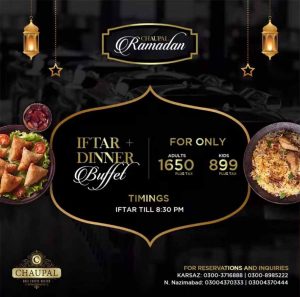 Cocochan
Ramadan in a marvelous way with our exquisite Iftar Buffet starting priced Rs.2100 for adults and Rs.1390 for children under 12 years.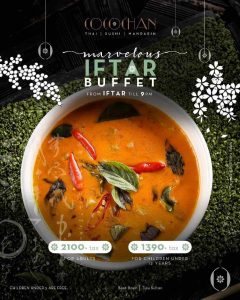 So make your iftar memorable and extraordinary by trying out these restaurants in karachi.