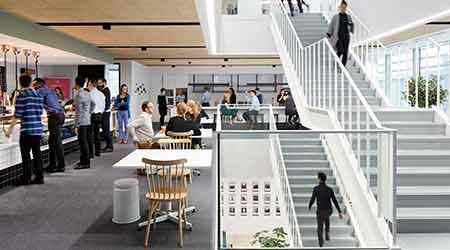 Nowadays, the most valuable asset of office is not the productivity, the technologies or the brand; it's the team work..!!
The team work is interlinked with the workplace, nothing affects happiness and the productivity or your team like their office environment.
Establish Areas For Socialization:
Socialization is a key component for creativity. Whereas socialization area usually take place in a designated lounge area, where group of employees can take rest, and discuss the rest of the work.
When setting aside an area for socialization, arrange the space so that groups of different sizes can congregate. Include couches, comfy chairs, and four to six person tables of various sizes.
Setting up your socialization area to be flexible in design can transform a chance meeting of four colleagues into an unexpected collaboration that brings about new ideas and new solutions.
Peaceful Working Environment:
In every era, there should be concentration on a particular task, which means that there should be a peaceful area or environment.
however this leads an employee to focus on their work as well as productivity increases simultaneously.
In short, groups in offices can execute their task more easily with more ideas and creativity, as disturbance makes an environment uncomfortable.
3. Keep Your Office Environment Hygienic: 
If you are working with in an office environment, it is vital to keep your office equipement clean and germ free.
Doing so helps prevent the spread of illnesses that can halt productivity and make it more difficult for your business to operate smoothly and efficiently.
We recommend adding regular cleaning to your schedule at least once a week.
Better yet, do a quick wipe-down of the most surfaces like keyboards, adding machines, main work surfaces, drawer handles, and any frequently used buttons or switches
before you leave the office each day.