Actress Noor Bukhari got into another fight with actress Zoya Nasir.
Earlier, Noor Bokhari criticized a bride for wearing a reveling shirt on her  wedding day. However, Zoya Nasir couldn't stand Noor's opinion and threw shade at her.
Zoya posted a story on her Instagram account in which she highlighter Noor's past. She said,
"If Ms Noor was free to do what she did, same goes for everyone else. It's good that she had a calling and is following her faith but that doesn't give her the authority to name and shame."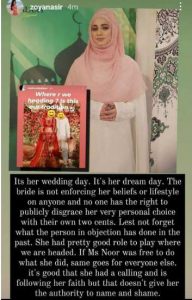 The matter went out of the hand when Noor Bokhari commented,
Later she Appologized to Zoya Nasir and took down the post after the issue was created.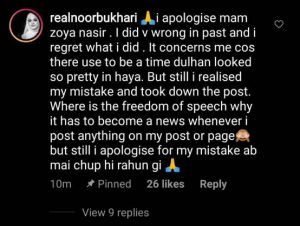 Earlier, the actress tried to start a dispute with Minal Khan for sharing her photos with Ahsan Mohsin Ikram on social media. But Minal khan did not responded much to her comment and ignored it.