Every Year, 1st Of May, is celebrated as World's Labour Day, all the workers, are appreciated for their ongoing efforts and non stop support for their loved ones. They are the asset, they continue to grow and struggle so that could feed their loved ones. The world needs to appreciate them more, they deserve everything this world has to offer or even more. The sole reason as to where we are today, standing and succeeding in our lives is because of the back-force we have available to us.
This World Labour Day, Lets Celebrate our health line workers who have given their all, to fight this deadly virus, they have spent sleepless nights in hospitals, they have managed to keep themselves together even when on the near of breakdown to ensure that the patients are getting the best care needed, so their families don't have to grieve the loss of a loved one for the rest of their lives, putting themselves out there, without any care in the world as to what would happened to them, exposing themselves to the virus, putting their lives at risk. This is what we need to appreciate this Labour Day.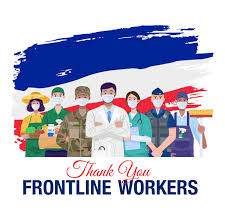 If we talk about Labour Day in Pakistan, we have a list of people to appreciate, those workers who are present out there in the scorching heat, working hard to feed their families, not taking time off just so that their families won't survives. They are our real heroes. This World Labour Day, lets appreciate the extraordinary, we would be nothing without them. This day is for all the people who continue to fight fo us tirelessly, this day is for them.
Our religion also teaches us to respect the rights of the workers, they should be treated with respect and love, they deserve it! This day is dedicated to all the workers in different fields who are doing their best whole year, this day is for them.
We are all humans, we all are working for something or the other, for the better or worse, lets just not get carried away in our own lives, that we forget our heroes, we forget the ones who deserves the most. Lets be humans, lets celebrates, because in this world full of chaos, the pandemic, everything has come to a halt, every house has some tragedy or the other, in between all this, lets just give one day to the ones who deserve it the most.