Your idea of relaxing on Sundays always meant booking a spa day at the parlor. Those couple of hours away from all the responsibilities and stress of daily life, gave you the perfect opportunity to finally take a breather. So much so, that every Saturday you desperately wait for the next day to arrive.
But with Covid-19 still going strong, it hardly makes sense to visit a parlor where you potentially run the risk of exposing yourself and your loved ones to the virus. This is why we've put together this piece to suggest some ways in which you can pamper yourself at home on a Sunday.
Let's take a look!
Mask Those Split Ends Away
Give your dry locks some TLC with a moisturizing DIY hair mask. Mix one tablespoon honey, apple cider vinegar and an egg in a glass bowl. Now apply this mixture and leave it on for 30-minutes. This treatment will help lock in moisture to prevent further damage.
Paint It Beautiful
Haven't had the chance to get your nails done in a while due to the pandemic? Use your day off to give yourself both a manicure and a pedicure at home!
Start off by trimming your nails to get them to your desired length. Pick a nail polish color of your liking and paint away. If this sounds too basic and boring for you, add in a couple of nail stickers.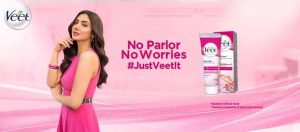 Bye Bye Fuzz
Not being able to visit the parlor shouldn't stop you from getting rid of unwanted body hair. Enjoy some #MeTimeVeetTime with Veet on Sundays to get enviably silky smooth skin in just 3 minute so that you stay #HameshaReady. So, no need to make trips to unsafe parlors anymore. Let's #JustVeetIt instead!