All about GTA you should know
Let's get back in time again and talk about games again but this time about everyone's favorite game GTA (grand theft auto). if you belong to a brown family and if you say that you don't know about this game I will never believe you. because back in time this game was the most loved and played game of all time. the first game came in 1997 which was developed by rockstar north and published by Rockstar Games.
The reason this game was so popular among children's because this game offered a whole new experience to players and it has an open world where players can roam around complete missions to progress an overall story. The first GTA that was released was not that popular because it was the same as all other games but when the iconic GTA Vice City came in 2002 the whole story of the video games market was changed. every child loved to play that game. If we compare the graphics and all other stuff of that game to today's world so there is a lot of difference but still people love to play that game as it is also available on mobile phones now. if I talk about myself I literally played that game more than 100 times and ended the story like unlimited times. the main character in the vice city was Tommy Vercetti who used to wear an iconic shirt of blue color.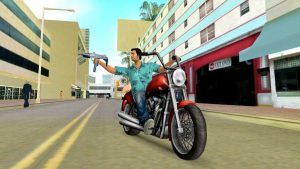 another reason that Gta got the attention of the market was this game also offered cheats codes that you can apply in-game and have some out of that game benefits. how cheats codes worked was like if you are being chased by police in the game so can quickly apply a cheat code and then the police will stop chasing you, or if you need a car you can also type a cheat code for car and car will appear for you. this cheat code thing was so new and creative that the company still offers that thing in every game they release.
After GTA vice city the second GTA game which was very famous came in 2004 named GTA San Andreas featuring main character Carl "CJ" Johnson who used to wear a white tank top. as always this game was also a gangster game featuring some new features like in PlayStation 2 if you have 2 controllers you can also add your friend with you by just quickly going to a specific place and pressing a dedicated button. after that, another player will spawn in-game and you and your friend can play on the same console at the same time. you can roam around the city, complete missions, or do anything you want.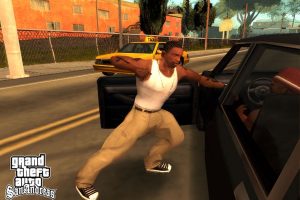 after san Andreas, many GTA games came but no game was popular as vice city and San Andreas. the games that game were good no doubt but not that good. but in 2013 GTA V came to the market to regain the love from players that they gave to the vice city and San Andreas. GTA v was the first game that has some realistic graphics. GTA v is the most loved game among young kids and is still on the market. GTA 6 is under work and it will be released in 2023 (expected).