Q 1: Enlighten us about your success journey and how did you integrate into becoming one of the best in your industry?
A: Unlike now, success was harder to achieve when we were younger. This digital age that's unfolding every day before us has made everything easy and accessible. Be it resources, information, education, various real-time experiences and most importantly, business. The world is now at your fingertips, all you need to do is use your time wisely to turn your ideas into reality.
All we had back in my time were big dreams and the will to chase them until we made it.
I started working on my dream early on – after completing my bachelors, in 2004 I began running our family's real estate business which was established in 1984 by my father. I feel very lucky to have had valuable exposure to different facets of business dealings with his guidance. That's what prepared me to face the challenges I faced when I was in the process of expanding our family business and crafting the identity that it has today as 'Earthlink'.
As for becoming one of the best in the real estate industry – well, the formula is simple, and I merely followed this formula. First and foremost, to be successful one must be true to themselves and their work. Secondly, one must make bold decisions and take calculated risks when required. And thirdly, it's imperative that you value each and every team member and their input, understand the importance of keeping them motivated and happy as there's no success to be achieved alone. If your team knows that their efforts will be rewarded, there is no mountain high enough that they won't climb for you.
Q 2: Where did the idea & name of Earthlink come from? How did you start this venture?
A: Every business has an interesting story connected to its inception, and so does 'Earthlink'. It is a name that's more or less self-explanatory. Our business is solely dependent on everything related the grit of the earth, but we have also successfully linked it with technology to create a seamless experience for our target audience, from becoming aware of our brand to benefitting from what we have to offer.
The beginning of my real estate career with Earthlink was totally serendipitous. I joined my family business while doing my engineering assignments because I had a degree in software engineering. I got an idea – to combine business with technology and so I made a website and turned it into a real estate business, which proved to be successful. I haven't looked back since.
Q 3: What's your company's vision?
A: Earthlink's vision goes beyond blueprints, bricks and mortar. I want the company to soar high above the rest and I wish to see our identity become synonymous with excellence in concept, design, quality, customer service and satisfaction.
I want Earthlink to become a truly glocal brand and see Earthlink grow into a name that resonates with people around the world, wherever we set up our business. A glocal marketing strategy is employed by global brands to adapt to local needs, and that's what we want to do as well. We're building a base to gradually start working on making this happen, and with hard work and undivided focus, God willing our vision will become a reality.
Q 4: Which project would you call as your company's turning point?
A: The idea of the project that propelled Earthlink towards success came to me in a café in Spain back in 2010. Surrounded by art, architecture and a language different than what we're familiar with, I got inspired to come up with the name 'The Grandé' for one of our projects. The idea behind it was to deliver unmatched quality, expert craftsmanship, flawless architecture, and an experience to remember. The Grandé rapidly gained popularity and became Earthlink's masterbrand due to its grandeur and the high-quality lifestyle that the brand is associated with.
Q 5: What do you think are the vital points for client satisfaction?
A: To achieve client satisfaction the most important thing for a builder to be mindful of, is that the quality delivered to the client should be exactly what was committed to them. And not only that, a builder should strive to deliver a better project than the client expects, because when you exceed expectations, you win over the client's trust and build a long-lasting relationship with them.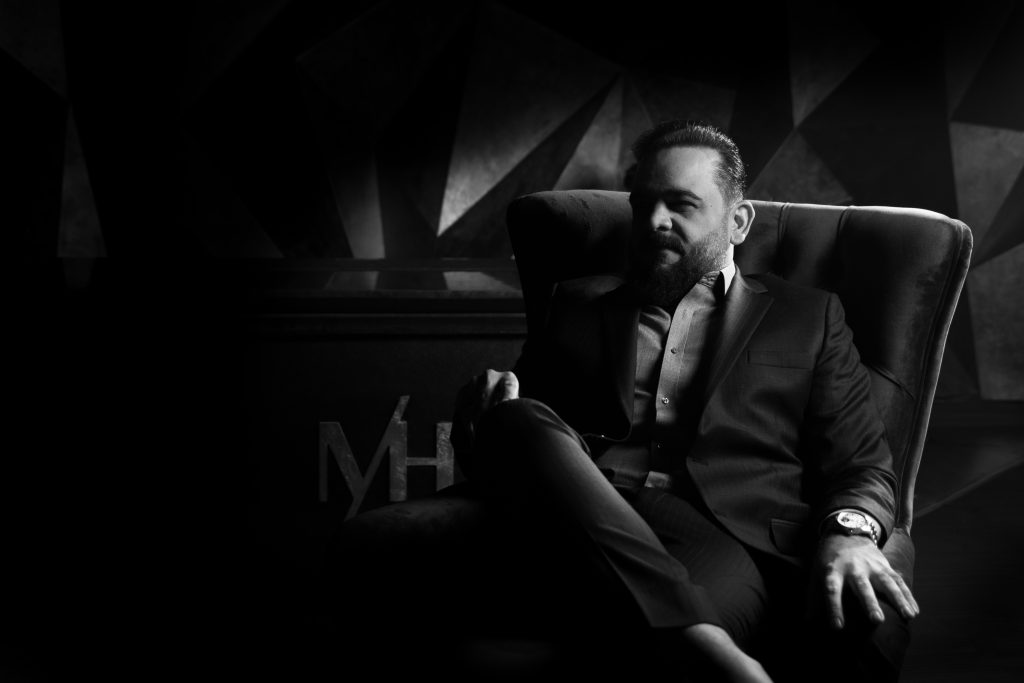 Q 6: Owing to the pandemic how do you think it has affected real estate business?
A: If anything, the pandemic has made people more conscious of life's uncertainties, and has taught them to be prepared for the future. As a result, the real estate business has grown during the pandemic, as properties are more in demand because Pakistanis believe that the most valuable asset that never depreciates is property. With all the risk-factors involved, real estate gives its owners peace of mind and a feeling of security.
Q 7: Do you think our real estate sector has met with the international standards?
A: There's a lot to be done in the Pakistani real estate industry in order to meet international standards, so no, I don't think we're there yet because our exposure to international market is very limited as of now. But that doesn't mean we're far off. We're hopeful that we'll be on par with the international real estate community soon as Pakistan's economy is gradually witnessing growth, and currently our market needs a lot of international-level exposure and has a lot to learn. In my opinion, a few years down the line we will see our growth in international arenas as well. As part of my future plan for Earthlink, we too, are planning on making that happen.
Q 8: Tell us about your experience working with Bahria Town?
A: Just as in the past, all major brands and companies gained popularity as a result of their unusual approach to business ideas and having an unorthodox culture, Bahria Town too, is an organisation that has become what it is today because of its unorthodox ideas and attention to the minutest details. This idea of theirs, to be an avant-garde brand – has led them to exponential growth, allowing their business partners to grow as well.
Working with Bahria Town, I would say, has been a phenomenal adventure and being an organisation that takes on challenges head on, Bahria Town has given us remarkable opportunities to fulfill challenges of our own too. This is the kind of experience a sizeable real estate business as ours should enjoy in their career.
Rather than following conventional norms, Bahria Town has been a great influence in helping us grow in the industry.
Q 9: How supportive is the government towards the real estate industry?
A: The current government policies regarding the real estate sector indicate a better future for the industry, but whether these policies will be adhered to properly remains to be seen. Only time will tell. The government has in its hands the mammoth task to do so much more by educating, regulating, and implementing licensing in the real estate sector.
Although these factors I mentioned bring the government an opportunity to work on them by following innovative solutions, it that won't help the real estate industry at large if the ultimate target to elevate the whole fraternity is not achieved.
Q 10: You have a vast clientele how do you maintain a balance and manage to meet the expected standards?
A: Managing the clientele totally depends on how much value you give them even after you've achieved your goal of selling them a property. At Earthlink, regardlees of the size of their investment our clients feel taken care of and they trust each and every advice we give them, as they have seen results and have benefitted from them.
As for meeting expected standards – as I mentioned before, at Earthlink we don't just meet expectations, we exceed them every time we deliver a property. That's the only way to retain happy clients and build a strong relationship with them.
Q 11: What are the future prospects of Earthlink?
A: We want our clients to think of Earthlink on a level where they consider investing with us as they would invest in the capital market. And in the years to come, we would like to see Earthlink in Pakistan's national index, being created as a result of public offering.