How long have you been working as a fashion photographer?
I have been working as a fashion photographer for the last 8 years. I started in Karachi, and then moved to Dubai in 2015, where I have worked with International brands and designers. I moved back to Karachi last year before Covid hit. I have also done a course from Mastered UK in Fashion Photography in 2018.
What inspired you to get into this field?
I have always been inclined towards creative expression. After completing my education in Accounting, when I couldn't find fulfillment in that field, I started my own studio with my a creative fellow Oosman and started working as photographer. The quest to acquire better technical knowledge and creative expression has led me to work on diverse platforms. But I have always loved to work in the fashion industry due to my unique way of storytelling through images. My inspiration always comes from the work of the great artists, painters and sculptors.
Industry people you love working with?
I guess, since I am working with variety of people currently, I can't name a few. Also since I have recently come back from Dubai, I am exploring now. There are now many great models, designers, makeup artists, stylists, in the industry, some of which I am working with and some I want to work soon.
What are some of the pros and cons of working as a fashion photographer?
One of the pros of being a fashion photographer is having a voice and the medium of expression. Other pros include working with fellow creative individuals and also the opportunity of translating someone else's vision onto your own canvas. The cons might include that sometimes; people don't take you seriously and consider our work being easy and not strenuous.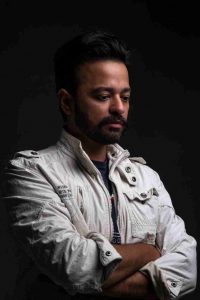 One thing that you would like to change in our industry?
I guess our industry needs to be regularized and professional. We need to have more professional bodies regularizing and overseeing the activities. Currently it's a bit of a chaos and sometimes we have to deal with the nonprofessional attitudes.
Who according to you are some of the most photogenic actors and actresses from our industry?
There are many actually, in my opinion some names are Meera, Sarah Loren, Mehwish Hayat, Iman Ali, Amna Ilyas and Aamina Sheikh. The actors, in my opinion are, Emmad Irfani, Sheheryar Munawar and Wahaj Ali.
If you are given a chance to work with any celebrities from Bollywood or Hollywood, so who would they be?
I have always wanted to work with Lady Gaga; she is one of the most disrupting artists of our times. I am also very much inspired by the personalities of Johnny Depp and Jim Carrey, so would love to photograph them.
To end things on a lighter note, funniest rumor you ever heard about yourself?
The rumor was that I was dating a model who is married to a very dear friend of mine. The funny part was that the person narrating the story was telling me with so much authenticity that for a second, I started doubting myself.