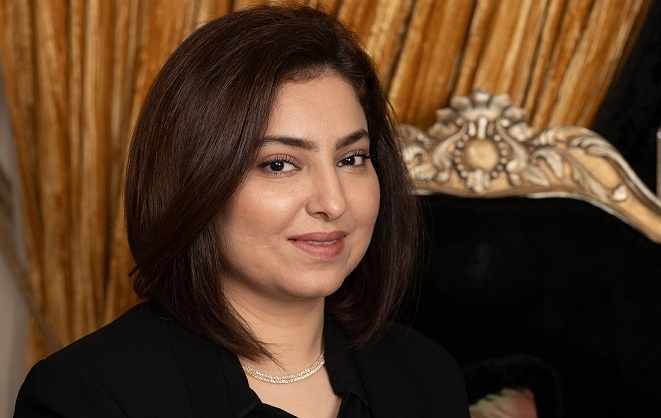 What is the inspiration behind this new collection of yours?
The main inspiration for me is and always has been nature. I feel like when science and art fuse together, they create a beautiful embodiment of my idea of fashion. Specifically for this collection, my major purpose was to revive the sea creatures which are on the borderline of extinction and fashion is my way of contributing to awareness.
Why do you choose Hira Mani as the face of this collection of yours?
Hira Mani is a genuine character. Her outlook towards her work resonates with my own vision for this brand and that's why we chose her to represent us. It was just lovely working with her.
What is the USP of your brand?
Since nowadays machine work is the main mode of designing for many brands, we're bringing back traditional hand embroideries to get you a timeless look and great employment opportunities for the artisans. Each piece can be worn in endless ways, whether you're getting at an Eastern or Western approach to the dress.
Why our readers opt for your brand instead of someone else's?
In a market of repeated designs, we hope to wow you with our distinctive and sophisticated pieces. Our brand is bringing reconstructive looks to the table which can be styled up or down depending on the occasion.
Explain the idea behind each look from the shoot.
Our basic idea behind the shoot was capturing an alluring mermaid, who was unfurling her charm in our exquisite pieces on our 'Enchanted Island.' We curated three looks for our muse Hira Mani, who outshone our marine themed, water backdrop.
How long have you been working as a designer?
After completing my studies from college of Home Economics and NCA, I moved to Canada, where I opened my studio by the name of 'The Color Wheel' in which I worked with a real estate company for interior designing and also did seasonal collections. I was lucky enough to get formal education in both interior and fashion design and later on I enhanced my learning in advanced couture from Canada. I got more drawn to Couture because I felt like I could expand my imagination more flexibly.
What inspired you to get into this field? 
As a child, I've always had an eye for aesthetics, whether it was fashion sense or the way one carries themselves. My mother was my first style icon, and though she and my father both majored in the medical field, they both had an impact on my fondness to create. My mother always loved hand embroideries and was skilled at them as well and my father, being an entrepreneur, taught me to weave my dreams into reality.
What is next for Madeeha Shoaib Couture? 
2020 has altered our perspectives for the better and we can confidently say that our brand is bringing you something exciting and multifunctional for your wardrobe. Stay tuned for the product reveal on our website and Instagram page.
What our readers can expect from your upcoming collections?
In many cultures, bridal dresses are of great sentimental value but are worn only on that special day. So for our next collection, we want to increase the functionality of the dresses so they can be styled in a variety of ways on simpler occasions too. Surely, the utilization of the dress will justify its worth.