Are Detox smoothies actually beneficial or is it just a hype?
Detox smoothies? Yes please! Let's cut to the chase and talk about the benefits of detoxing your body and flush the toxins out by consuming these amazing smoothies. These smoothies are not meant to be a meal replacement but a great way to restart your metabolism for the better. They are full of vitamins, antioxidant, fiber, and essential nutrients that our body needs.
Benefits of detox smoothies are endless. They include better sleep, higher energy levels, quicker weight loss, clear skin and a longer life expectancy. They make you feel, look and live better, I mean what's not to love?
Here are a few delicious recipes for an easy and quick fix when you're feeling lethargic, bloated or your body simply needs an instant recharge, hydration, or boost!
Green Protein Detox Smoothie
½ cup Unsweetened Almond Milk
1 tbsp Almond Butter
2 cups Baby Spinach
1 Banana
Blend all the ingredients with ice, enjoy it for either lunch or a pre-workout. This protein packed smoothie is an excellent choice to start losing weight and resetting your body and taste to get accustomed towards healthier practices.
Glowing Green Detox Smoothie
1 Kiwi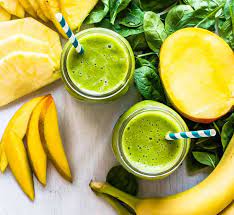 1 Banana
¼ cup Pineapple
2 Celery Stalks
2 cups Spinach
1 cup Water
This smoothie helps you cut down fat and shed pounds from along the waist as well as ensue you have glowing skin all season. It's scrumptious, it's healthy and it's one of my favourites. Try it out yourself and you will surely not be disappointed.
Peaches and Cream Oatmeal Smoothie
1 cup Peach slices (fresh or frozen)
1 cup Almond Milk
½ cup Baby Spinach
1 cup Greek Yoghurt (unsweetened)
¼ tsp Vanilla extract
¼ cup Oatmeal
Blend, blend, and blend! Who knew green smoothies could be so rich and delicious? This one is a top contender with its peachy, fruity taste and the calming anti-inflammatory properties it has are highly beneficial for our overall system.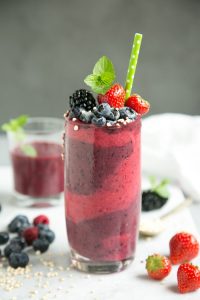 Berry Blast Smoothie
½ cup Strawberries
½ cup Blueberries
¼ cup Raspberries
1 ½ cups Spinach
2 cups Coconut Water
1 tbsp of Chia Seeds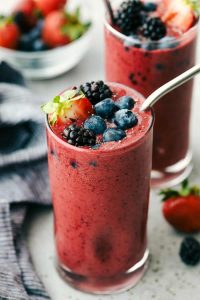 Blend all the ingredients together with either coconut water or normal water. Once blended, add a tablespoon of Chia Seeds and boost up the benefits.
We all know berries are an excellent source of nutrients and filled with antioxidants.
Not only do they speed up your metabolism and help you lose weight, they have amazing benefits for your skin! Flavourful, easy to make and of course Instagram story worthy!
I am attaching a link which will educate you about all the benefits of Chia Seeds!
Here were some efficient, nutritional and yummy recipes for detox smoothies that are bound to improve your day to day eating habits and boost your immunity as well as metabolism. Always remember to consume these and eat healthy alongside. Do not consider this as a meal replacement unless you take advice from a reputable nutritionist. Moreover, stay on track, incorporate a workout routine to balance out a healthy lifestyle, keep glowing with these delicious drinks and stay tuned for more.
Until next time!