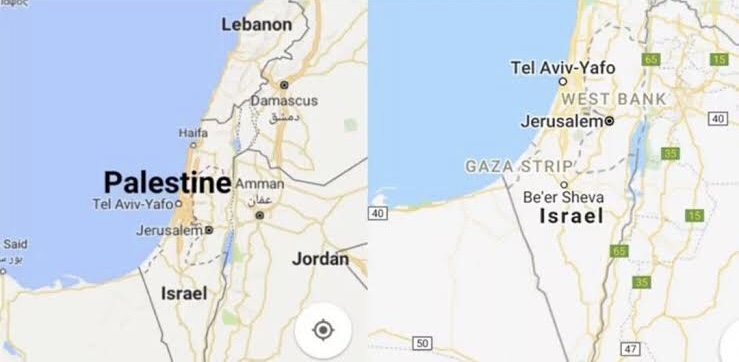 Apple and Google have been blamed for removing Palestine from their world maps, regardless of it always failing to be marked in any case.
Looking for Palestine on Apple Maps and Google Maps shows a layout for the Gaza Strip and West Bank regions, however no names for Palestine.
The news of it being taken out seemed to originate from a viral Instagram post by a page called "Astagfirvlah", which blamed the tech giants for "officially removing" Palestine from their maps.
An update has since been added to the post, expressing that it contains "false information". However, news stories and posts on other online channels of various social media networking sites have kept on spreading the news, with allies of the Palestinian region blaming the tech firm for supporting Israel's occupation.
Palestine is recognised by the United Nations and 136 of its members as a free state, yet not in the US where Apple and Google reside officially.
Google did not immediately respond to a request for comment about the latest accusations but a section of its website dedicated to disputed boundaries states: "Disputed boundaries are displayed as a dashed grey line. The places involved don't agree on a boundary."
Israel took over and invaded the West Bank, Gaza Strip and Golan Heights during the 1967 war. Israel attests that it no longer possesses Gaza in the wake of destroying settlements in 2005. Be that as it may, as it holds huge power over the phone coastal territory's airspace and borders, Gaza is still classified as occupied land by the UN.
Monitoring groups say there are in excess of 130 Israeli settlements in the West Bank, regardless of being considered unlawful under global law.
It isn't the first time that Google has been blamed for removing the name Palestine from its mainstream map administration.
In 2016, a Change.org petition claimed that all mention of Palestine "was removed at the insistence of the Israeli government," adding that "Google's two Jewish founders have close links with Israel and its leaders."
The 'Google: Put Palestine on your Maps!' appeal stays active and to date has gotten in excess of over 800,000 marks.
Source: Independent