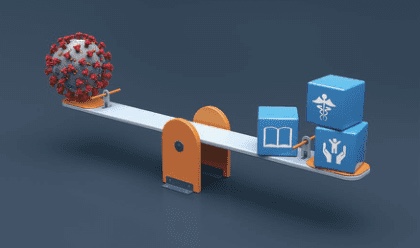 Explicitly COVID has changed everyone's life more or less. Some may have been affected in a positive manner while others lifestyle has been devastated. Many has to face some serious health issues due to weak immune system. People who already had some serious problems were badly effected. Similarly it has a deeper effect on education on all levels. Talking about children, they don't have that strong immunity as an adult so it had a real bad in comeback . The shut down of schools and colleges all over the world has resulted an in expected outburst in education system. In this time, when the third wave is here, distance learning despite of online learning can be a great help to students too. It just needs to be more proper and regular with explicit awareness.
Nobody anticipated this fatal out break. In need of hour, what we can do is seek solution and our prime concern is education here. Distance learning has opened new scopes for students who want to earn a foreign degree just by taking classes and submitting assignments at ease of their homes.
Globally invested money for education should be used in a Sterling manner by adopting and acknowledging growth of education technology even in third world countries like Pakistan.
This will make significant impact of smooth learning in all the educational genres. However, by overcoming these challenges we can make learning easy for students. Thus, helping them having a bright future in spite of sitting idle at home and waiting for this pandemic to end.