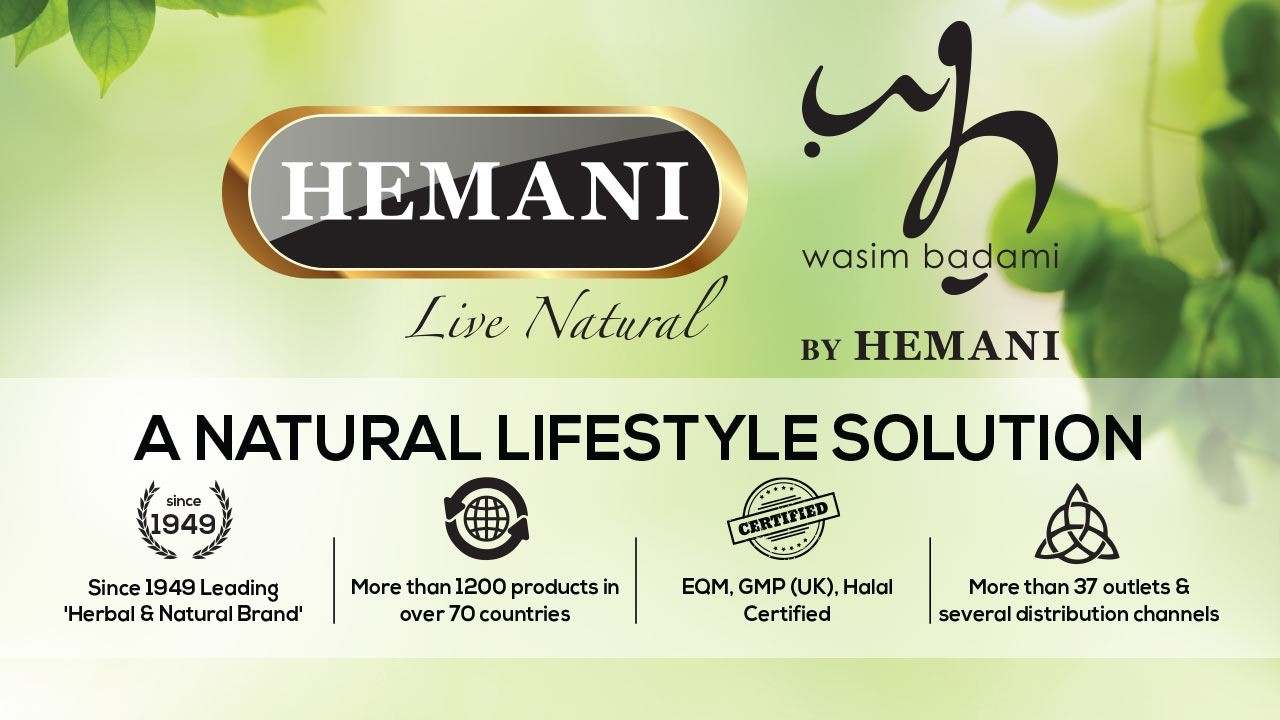 Hemani Herbal has been around since 1949 with its 'Live Natural' slogan, more than 1200 products and existing in over 70 countries across the globe. They specialize in providing 'Natural Lifestyle Solutions' with a variety of beauty, health, wellness, and lifestyle products.
Our team of experts surveyed a group of 100 people of distinctive demographics in Pakistan and abroad and concluded that despite the continuous provision of quality 'Herbal & Natural' products, many people have some questions related to the brand. After gathering the questions we had visited Hemani Herbal Head Office and had a detailed interview with Mr. Mustafa Hemani, CEO of Hemani Group, in which he had answered some of the very important questions people had asked.
Q1. Why trust Hemani?
Ans. Because we have an experience of Herbal & Natural Products since 1949. Everything from R&D to production, final packaging, placement in stores, and delivery to our customers – happens in-house under full quality control and check. Before launching any product in the market, the team along with the management itself tests the product on their own selves for a specific period of time, if there are any reactions, addition and subtraction to the formula of product is done.
Q2. Are the products really 'Natural & Organic'?
Ans. Hemani Herbal believes in providing quality products that have no chemicals or any harmful side effects for the user. We assure to make good use of what NATURE has offered us in form of various Herbs & Natural miraculous ingredients.
Q3. Is WB by Hemani & Hemani Herbal same brand?
Ans. Hemani Herbal joined hands with famous Pakistani television personality, Waseem Badami to provide innovativeHerbal & Natural products that cater to Modern-day issues of beauty, health, wellness along with other lifestyle related problem. Not only this Hemani Herbal is the umbrella brand and now has three brands under it, WB by Hemani, Aijaz Aslam & Ayesha O Beauty.
Q4. We heard a controversy related to Hemani's whitening cream, what is the explanation?
Ans. As mentioned previously as well, all our products have zero side effects and contain no harmful ingredients. Our whitening creams are properly tested by PCSIR, PSQC, Dermatest – RIRR (Germany) & HITS (Dubai)!
Q5. Where can we find your products?
Ans. There are more than 30 stores of WB by Hemani across Pakistan, several retail stores, and various distribution channels in Pakistan as well as other countries including many third-party online portals as well. We deliver worldwide! So to place your order online go to: www.wbhemani.com | www.hemaniherbals.com or drop a message to any of our social media platforms: @wbstores.pk | @hemaniherbalpk, or WhatsApp us on 0348-1119905 | 0347-5558864. Lastly, you can also place your order by emailing us at orders@wbhemani.com | cs@hemaniherbal.pk
——————————-
Mustafa Hemani wrapped up the interview by showing us some of the most amazing products of Hemani such as Immunitea Herbal Relief Tea, a tea which helped hundreds and thousands of people to prevent as well as get healed from COVID-19 as the tea helps in improving immunity and the symptoms of COVID. Not only this their Herbal Dietary Supplements in 13 different and amazing variants are made of herbal essential oils with zero side effects and worked wonderous to improve various overall health!
Hemani Herbal plans to continue serving everyone with innovative and natural lifestyle solutions in the coming years as well.
Join Hemani in excluding chemicals & toxins from your life and "Live Natural"!