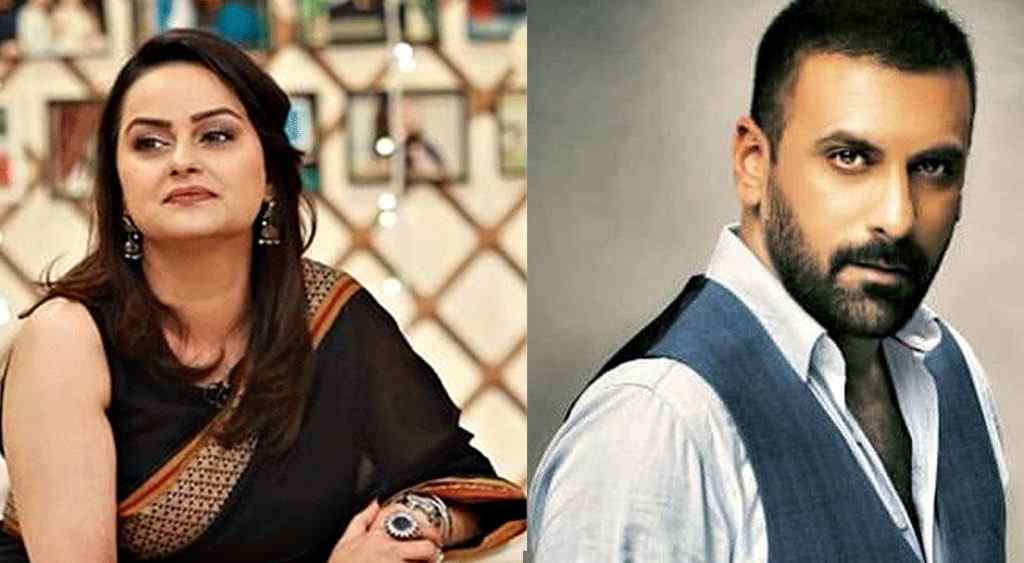 Pakistani actress Javeria Abbasi has always been open about her marriage. Recently, in an interview, she had asked everyone to stop being sorry at her for being a single mother. "I can give my child a great life from whatever I earn. I don't need a man. I raised my child well. I have an amazing daughter; she's beautiful; she's working and I'm so happy that she's a well-educated girl. What else do you want in life?" she had said.
She recently appeared at a local talk show, Javeria highlighted the other aspects of her life, especially how Shamoon is also her step-brother. The actor began by talking about her career trajectory. "I went to Express Talent as an audience member," she revealed. "I always wanted to go backstage and meet the artists. Nayla Jaffrey saw me there when I went to ask her for an autograph. She asked me to audition instead. After that, I worked with your [host Nida Yasir's] father for the first time, got my first award for the same PTV drama. Did a lot of struggle as well."
Nida then asked whether she was married by then, to which Javeria said she had just gotten engaged to Shamoon. The host then revealed how their lives were made into a drama serial as well. Hum Tum starred Atiqa Odho, Sajid Hassan, Aamina Sheikh and Mohib Mirza.
"Javeria's mother and Shamoon's father got married. Javeria and Shamoon were step-siblings". "People get really confused with this story," Javeria commented, adding, "So I don't want to create any confusion. The rest of our siblings were from our mother and father. That's why people get really confused whether Anoushey Abbasi is my sister or Shamoon's. She's both of our sister."
Here, Nida quipped, "So take your mind out of the gutter. Javeria had already come clean about how she tied the knot with Shamoon. He was the first guy she ever saw. He was the first man so I thought I'd just hold onto him. But that's a big exaggeration. However, the idea was to bring the whole family together. We would live together, share a house, so it was a good idea and it worked."
The actor recalled she had gone to her maternal uncle's house so she can get married. "I had to come back to the same house so rukhsati happened from my mamoo's," Javeria remarked. The couple, who was married for 10 years, co-parent a daughter Anzala.
Nida then pointed out how Javeria probably hadn't have to go through the 'typical saas drama' since her mother-in-law was her birth mother. "Oh no, I had it worst!" the actor replied. "My mother was on a mission to prove how her daughter was the best. Apart from working 12 hours a day, I would do rest of the chores as well."
The duo tied the knot when they were quite young: Javeria was 17 while Shamoon was 22. Talking about her divorce, she shared how relationships all come down to chemistry. "Sometimes, things just do not work out. You feel as you mature, you could have done better," she shared while the rest of the guests agreed. "I was giving an interview recently where I made a point to share how women aren't helpless. We aren't helpless, at least I am not. If we are not in a relationship, that doesn't mean we don't have a say."
However, there were times when Javeria shared she felt a man could have been a much-needed support system. "Having said that, I think we [women] realise it too late that we are our own power. If we stand in a queue, we are always preferred to go ahead," she said. Citing an example of how women are being heard in this era of #MeToo, Javeria asserted, "No one listened to men, so who's the powerful one here? We are. In this age of #MeToo, how are we whining about helplessness?"
She also pointed how women, instead of relying on the Almighty, try finding comfort in a brother, a father or a husband. "We keep forgetting that there's a Divine power that can pick us up whenever we fall," Javeria concluded.
Many people get confused regarding this marriage, whether its allowed in Islam to get married to your step brother or not. Well, since they shared different father so it is allowed in Islam to marry your step brother. Jaweria is a strong woman and she proved to be an amazing single mother aswell. We wish her best of luck for future.