Purely and wholeheartedly inspired by Amin Gulgee. Does it bother you why the title says "Laal Jaadu" and not Black magic which is obvious and self-explanatory? Black magic makes sense because it involves supernatural powers for evil or selfish purposes and so is mentioned in The Holy Book. But..Laal Jaadu? Red? Is it cursed? No.
I have seen a lot of people who get manipulated and then end up associating themselves with devil or evil spirits. It makes you go crazy and pushes you to do things which harms you internally and your afterlife to the core. It is a pure sin in Islam.
In my writing today, I will tell you how Red Magic works and how that also destroys you though its not a sin in Islam of course, but it is what it is when you are hurt..
Starting off, a man and 2 women who are his wives. He celebrates his wedding night with each of them separately where he fills them with love and shows affection to an extent. He later on, undresses her and starts drawing beautiful designs and flowers on her body throughout passionately with Mehndi. He makes her look beautiful. Just 2 mins after, he wipes off the Mehndi and ruins not just the design but her skin also, made it all ugly. Dressed her back and went out. They faced the world together the next day. He repeated the same thing with his second wife, he did the whole thing again and went to face the world with her, hand in hand. So, what do we understand with this? Does it give a powerful message to us? Does it describe Laal Jaadu to you already? Yes, in this short story, patriarchy and monogamy is portrayed. It describes love, wedding and controlling power of men. How a woman is unable to do anything but accept her man as it is because of the amount of love she has for him. She tolerates another woman for him, she tolerates him treating her like shit, she accepts and tolerates everything just for him to stay by her side. Love makes you do crazy things; you fall in love and you do things which doesn't even make sense. Exactly how black magic ends up in altering your personality, character and ruins you. Can the man justify himself for doing so or is it always going to stay as "Meri Biwi, Meri Marzi"?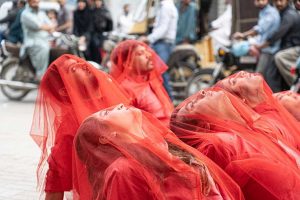 "Couldn't sleep, wouldn't sleep. Love came and said I shouldn't sleep." There was a man who pets hen in a cage and loves her to death. He feeds her, gives her all his time, even sleeps along with her. One day he wakes up and roasts that hen, enjoying the yummiest ever BBQ. Why? Love drove him crazy to an extent that he couldn't stop himself from even eating the hen, he was so much in love that he ate her only because he wanted her to stay with him always. Kia Pyaar me sab kuch andha hai??
Where are we stuck? What is this world? Why does love have so much power over us? I don't know but the way it makes you lose control on yourself and ends up consuming you to the core where you are helpless and so much in love that you can see nobody except the person you are in love with. Why?! Where is our self-respect and why don't we love ourselves enough to put ourselves before anything/anyone else?
This world is temporary but I wonder when will we be out of our partner's Laal Jaadu!