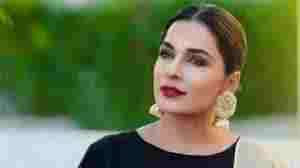 Actress Meera Jee has opened up about her experience of getting the Johnson & Johnson vaccine.
She took to Instagram and shared two videos. In first video, a doctor can be seen holding a syringe. In another video, Meera said that she has received a jab of the Johnson & Johnson vaccine. She also suggested others to received their jabs too.
Sharing the videos, the Baaji actress explained in the caption what types of symptoms she felt.
View this post on Instagram
Alhamdulillah I was able to get vaccinated for covid-19 a few days ago, while in New York, USA. I did get mild symptoms including fever, headache, fatigue, and body aches. I would recommend everyone to get vaccinated to keep you and your loved ones safe from covid-19. Sending lots of love to my dear fans all over the world! Please don't be scared of the vaccine, it's only to help everyone survive from this pandemic says Meera jee.
It is pertinent to mention that Johnson & Johnson vaccine rollout has been halted after reports of rare blood clots. The Johnson & Johnson (J&J) Covid jab rollout will be temporarily stopped in the US, South Africa, and the European Union.