In a recent interview of Shahroz Sabzwari and his wife; Sadaf Kanwal at the Time Out, the host (Ahsan Khan)  discussed about his daughter Nooreh, with Syra Yousuf.
Shahroz was asked "Have you guys divided how much time she lives with each parent?" by Ahsan khan to which he replied that;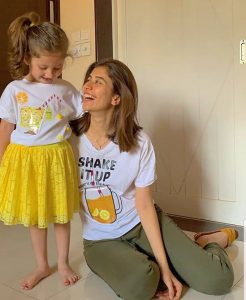 "Nooreh lives with Syra because she is her mother, and mothers are the ones who truly educate a child. I just have fun with Nooreh. Once she's a little older and starts understanding things a little bit better, that's when father's work begins. The credit for Nooreh's upbringing goes completely to Syra." said Shahroz Sabzwari.
Ahsan further asked Sadaf about his relationship with Nooreh, to which she very calmly responded that;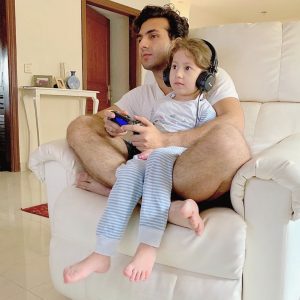 "It's a beautiful relationship, she calls me Sadaf and I call her Nooreh or any other loving name. She's such a loving kid. She's basically a version of Shahroz. So much of her behaviour is just like her father's."  said Sadaf Kanwal.
Nooreh does spend time with his dad almost 4 days a week but the credit of her upbringing has been all given to Syra because of course,  mother knows best!