Sadaf's views about feminism in her latest interview has taken the internet by storm. Her interview has managed to create chaos everywhere and currently, she is under the fire for what she said.
While sitting in her interview with her husband Shahroze Sabswari questioned every feminist. Sadaf, who had come to the show with her husband Shehroz Sabzwari, said, "Our husbands are our culture. I have married him, I have to pick up his shoes, I will iron his clothes, which I actually do very little, but I know where Sherry's clothes are. I know where each of Sherry's stuff is. And I should know when Sherry has to eat, and what he is eating. I should rightly know all of these because I am his wife.
So basically our Saraswati biwi trying to say that every girl should know her husband's belongings while her husband doesn't need to know the same. According to Sadaf Kanwal our husband is our culture. this statement makes no sense at all.
The whole internet broke with the memes of Sadaf Kanwal's statement.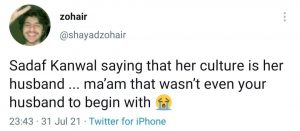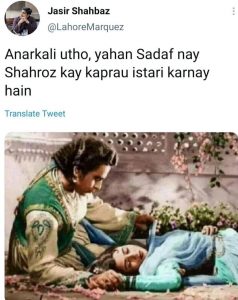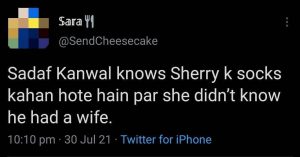 There was another one where someone said  Sadaf Kanwal dropping her career to marry Shahroz Subzwari, who hasn't achieved anything to his name and then giving sexist comments on how as a wife, she should pick up his shoes and clothes and a man's status is higher is peak patriarchal bullshit.
The whole social media is full of memes and bashing like that, and Sadaf Kanwal is trending number one on Pakistan's Twitter.