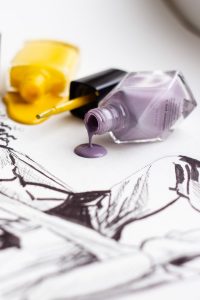 With the world we live in today, there are many options that have been derived to make your nails look beautiful, unique and make a statement. From acrylics, to extensions, to gel nails or shellac; these all have become a very popular choice for those that are always on the go and need efficient solutions. No doubt, it can be kind of problematic to manage the maintenance of your nails or keep visiting nail bars for a quick fix, however, for those who love having presentable hands with fresh nail paint and the perfect manicure, find it easy to make large investments towards their nail care.
Why is it important to keep track of your nail health?
Your nails are a reflection of who you are!
Fingernails can be an important indicator of your health which can be dictated through the colour, ridges or condition of your nail. The constant use of chemicals on your nails is bound to weaken them and lead to poorer appearance of your natural nail beds and that kind of defeats the entire purpose of investing so much in your nails when their health is deteriorating.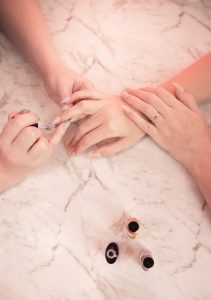 What if I told you there is an easy way out? One that can help you grow your nails naturally, maintain their health and flaunt them like no other? Here are a few secrets of mine that helped me get rid of that vile nail biting habit and grow my nails effortlessly!
File, buff and shape
It is essential to file, buff and shape your natural nails at least once a week to help them develop and define them.
Garlic
Yes, you heard it right. Garlic is an excellent choice as it is rich in selenium, which helps promote nail growth. Next time your mom cooks, take over and peel the garlic or rub a small slice on your nails. I know, I know, it may be hard to handle the pungent scent, however, this all-natural solution is totally worth it!
Nail hardener
For those of us who have weak nails that flake or break easily, have no fear.
Invest in a bottle of nail hardener, which is like the clear liquid base and topcoat.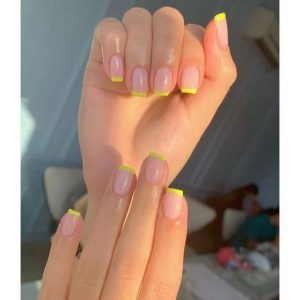 However, this has an additional amount of nutrients and vitamins that help you retain moisture, strength and save your nails from breaking or chipping easily! A great choice for a nail hardener is Sally Hansen. This brand has a variety of options to pamper your nails
Refuel on nutrients
Ensure your diet has ample of protein and omega 3's that will help promote a healthy nail bed.
Brittle Nails?
Use olive oil or coconut oil religiously on your cuticles and nails to nourish them and avoid chipping or flaking.
Paint away
Always leave a coat of either clear or light-coloured varnish to prevent you from biting your nails and maintaining a layer of protection on your nails.
Always remember to pick nail colours that are not too potent with harsh chemicals and don't damage your nails in the long term.
It's always fun to experiment with various colours, match them with your outfit or go for some nail art!
There it is! Believe it or not, these tricks helped me grow my natural nails to the point where people question me if they are real? Every time I go to a nail bar, I am always asked if I have acrylics on, which not only makes me feel a little smug but helps me flaunt my REAL nails and be creative with them without any fear or worries! I mean, my nail game is surely top notch. Time to upgrade yours.
Until next time!