Summertime calls for all those refreshing drinks that are going to replace tea and coffee. Similarly, Summer calls for change in your deserts as well, your desserts don't need to be based around cocoa beans, why not incorporate tropical fruits that can elevate your desserts game.
Mango Sorbet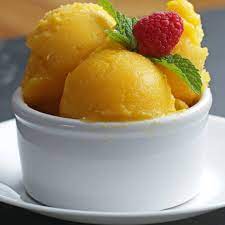 Only 3 ingredients can cool you down on your hot summer day. We have all tried Mango shakes and ice cream. It is time to turn things up and try something new. you only need 3 ingredients. Mango, honey and water, that's its.
dice few mangoes into small cubes, freeze them for 4 hours, take a food processor to add those cubes, tablespoon honey and water. mix that up until the texture turns into a paste. freeze that again for 2 hours and voila you have it perfectly blended, sweet and sour mango sorbet. add in some mint leaves to give it a minty taste.
peanut butter cookies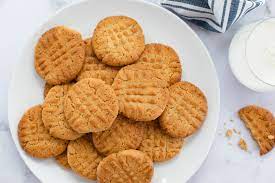 who does not love cookies right? they are all-time favourite snacks and desserts. you can have it for breakfast or a post-dinner snack with your friends or family while watching a movie. It is easy to make and only requires 3 ingredients, we are ditching chocolate cookies here as they are too mainstream.
All you need is peanut butter either (crunchy or smooth) caster sugar and a large egg
  Heat oven to 180C/160C fan/gas 4 and line 2 large baking trays with baking parchment.
Measure the peanut butter and sugar into a bowl. Add ¼ tsp fine table salt and mix well with a wooden spoon. Add the egg and mix again until the mixture forms a dough.
Break off chunks of dough and place, well spaced apart, on the trays. Press the cookies down with the back of a fork to squash them a little. The cookies can now be frozen for 2 months, cook from frozen adding an extra min or 2 to the cooking time.
Bake for 12 mins, until golden around the edges and paler in the centre. Cool on the trays for 10 mins, then transfer to a wire rack and cool completely. Store in a cookie jar for up to 3 days.
Mini apple crisp skillet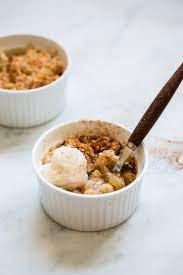 Why stuck in those super sweet desserts when you can utilize apples so well? Here is another dessert that only requires 3 ingredients, so try this smokey, crispy apple dessert.
You need a spicy cake mix, butter and sliced apple.
Preheat oven to 375˚F (190˚C).
In a small bowl, mix together the cake mix and 2 tablespoons of melted butter until the mixture is crumbly.
Pour 1 tablespoon of melted butter into the bottom of two small cast-iron skillets.
Arrange the apple slices in each skillet, ensuring the bottom is covered.
Sprinkle cake mix over the apples.
Bake for 20 minutes, or until the top appears crispy and edges are bubbling.
Cool for 10 minutes.