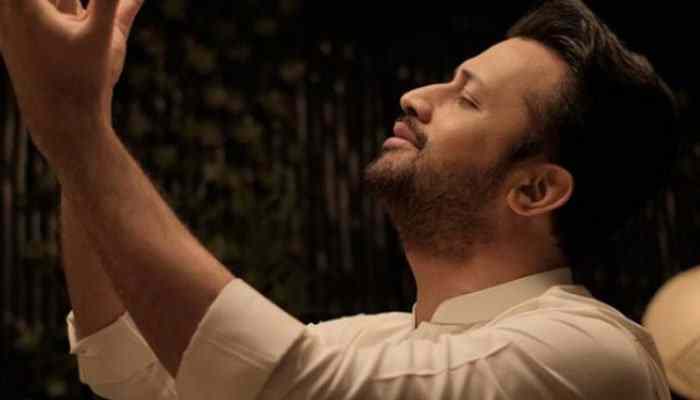 Pakistan's music superstar Atif Aslam has released a special Kalaam for the holy month of Ramadan.
The 38-year-old Jeena Jeena singer chose the most renowned Kalaam of Hazrat Imam Ahmed Raza Khan who is commonly known as Aala Hazrat in the sub-continent. Aala Hazrat's Mustafa Jaan-e-Rehmat Pe Lakho Salaam is the most recited salaam in Pakistan.
Earlier, Aslam released a series of teasers on social media about the upcoming salam to the sacred presence of the last holy Prophet [peace be upon him]. He captioned his post as "Salam-e-Ajizana coming soon."
Many of his fans are regarding the video as an absolute masterpiece by recreating the beautiful emotion, whereas many of his fans see this video as the best gift of Ramadan.
Here's how Twitter reacted:
#AtifAslam just blessed to make even Youngsters to make closer with their ALMIGHTY ✨
Can't Get Enough Thanks To You @itsaadee 💙 pic.twitter.com/dKDWxRMke0

— A.A | the AADAT BOY 💙✨ (@AfreenAtifaslam) April 16, 2021
Once again #Atifaslam won our Heart's ❤️ "Mustafa Jaan 🖤 e Rehmat Py Lakho Salam 😻" pic.twitter.com/jSkGNkrLb2

— Mian Omer 🇵🇰 (@Iam_Mian) April 15, 2021
Tajdar e Haram
Wohi khuda hai
Azaan
Asma ul Husna
Salam-e-Ajizana

Atif Aslam is blessed with the power to draw new generations closer to Almighty Allah & His Messenger (PBUH) @itsaadee #atifaslam pic.twitter.com/xOxdwGwJ0k

— Ashraf Raza (@AshrafR88837138) April 16, 2021
Goosebumps, Atif Aslam release Salam-e-Ajizana in collaboration with Nauman Javed and Ali Pervez♥️#AtifAslam #NaumanJaved #JummaMubarak #١رمضان_١٤٤٢ #جمعة_مباركة #AliPervez #SalameAjizana

— Hussain Mehdi (@Hussain83946627) April 16, 2021