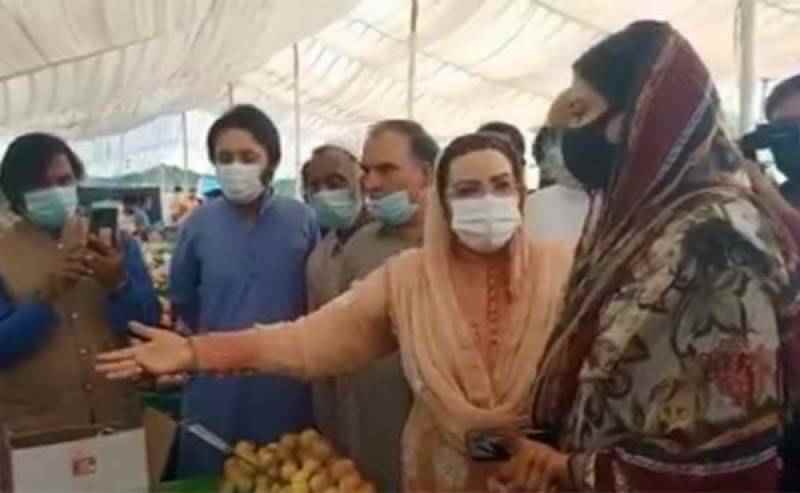 It was recently seen that Firdous Ashiq Awan, a Pakistani politician from PTI, was caught shouting at Assistant Commissioner of Sialkot, Sonia Sadaf. The video made rounds on social media, trending # 1 on Twitter. All this heated conversation took place due to the quality of fruit which was being sold. Firdous believes that she did the right thing and no one came to her defence, when all she was asking was for the bare minimum, in this heat and among the deadly coronavirus, people should be given the best hygienic food as well strict SOPs should be followed.
Watch what exactly happened in the tweet below.
Firdous didn't bother even listening to the other party, being Sadaf and kept on complaining about the fruits and as one would say that as they were not up to her standard, hence the whole chaos and fiasco took place. Firdous, belong to a v very respectable ruling party and a good leader herself, ended up disappointing a lot of viewers, instead of setting an example and appreciating people who are working in this scorching heat, she ended up insulting them infront of the whole crowd.
Firdous, also later complained, as a lot of individuals came to Sadaf's defence, when they saw that the attitude shown to this young lady was wrong and not justified. According to a source, Sadaf also said that she tried explaining the situation to Ms.Firdous, that the fruits went bad due to the extreme heat and the matter could be resolved without such huge dramatic scenario but she continued bashing her and didn't listen to what Sadaf had to say in her defence.
People on Twitter were against Firodus and called her beahbouts, disrepctful, ruthless and not appropriate. You aren't supposed to treat anyone like this, no human does. She behaved like a privileged person demanding for various things. As a nation, we expect our leaders to be humble an down to Earth and not come at people for things which are unethically wrong. Sonia was not at fault, she was playing her part. She didn't mean any bad to Miss Firdous Ashiq Awan. She reported that Firdous also pointed her out for not being present at the location when she arrived and was not there to receive her, to which she said, due to the crowd, she wasn't able to make her way through people.
Well, the question is, do we expect such kind of behaviour from our leaders? Aren't leaders supposed to act as a role model for their people. If leaders act this way how do we expect our nation to behave and not act privileged or entitled to anything. Leader or a common man, no one should be treated with disrespect. Everyones out there doing the best they can, nobody deserves to be called out the way Firdous Ashiq Awan did to Sadaf.
Pathetic. Let us know what did you think of this situation in the comments below.