By: Aiman Imran
Javed Afridi, the owner of Peshawar Zalmi, has dropped hints to bring worlds largest international coffee chain in Pakistan.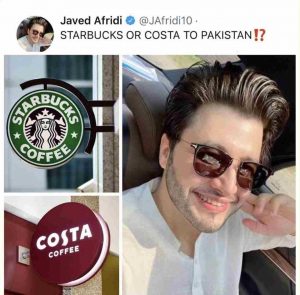 Taking to twitter, the young entrepreneur asked his fans if they want Costa coffee or starbucks in Pakistan. As the last few of his promises were true so people have their hopes high this time as well.
Also Costa coffee had their coffeehouse in Pakistan, but it was closed down years back as it didn't worked here.  Whereas starbucks, a few years backs stated, that they have no plans in opening coffeehouse in Pakistan.
However the people are still are very excited, and can't wait to welcome the international chains in Pakistan.
We hope that this news turns out to be true and not make our expectations turn down.