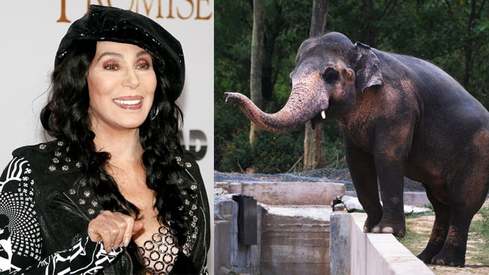 A documentary on the 'world's loneliest elephant', Kaavan's journey from solitary confinement in Pakistan to a sanctuary in Cambodia is going to be released on April 22.
Titled Cher & The Loneliest Elephant, the documentary tells the tale of 36-year-old Asian elephant Kaavan's journey and will stream on Paramount+. A trailer was recently released for the film and according to it, it follows American singer Cher's journey in making sure Kaavan is set free, as she crossed legal hurdles and the exceptional difficulties of the task, taking viewers on "a touching journey about humans, animals, and our connection to all living beings on earth."
Paramount+ was launched in the US and parts of Latin America on March 4.
Cher, the "Goddess of Pop", has also written and sung a new song 'Walls' for the documentary. We're glad to add what she's done for Kaavan to her already lengthy list of highly appreciable endeavours.
Her campaign took social media by storm, as pictures and videos of the lonely elephant, chained up and malnourished at Islamabad's Marghazar Zoo, went viral globally. International veterinarian communities, sanctuary owners, animal rights groups, and wildlife experts took to the internet in great numbers, expressing their concern at the situation, calling for the world's authorities to help put an end to the madness.
Cher and her organisation, Free The Wild, adopted the cause early on, and thus begun the daunting task of transporting the four-tonne malnourished mammal 2,300 miles across Asia during a pandemic.
The documentary follows Cher as she travels to Pakistan, meets the authorities, and oversees Kaavan's departure.
"I could see him from the distance, he was shackled. He was suffering," said Cher of her first interaction with Kaavan. "Elephants are just like we are, they are so family-oriented and emotional," she says in the trailer.