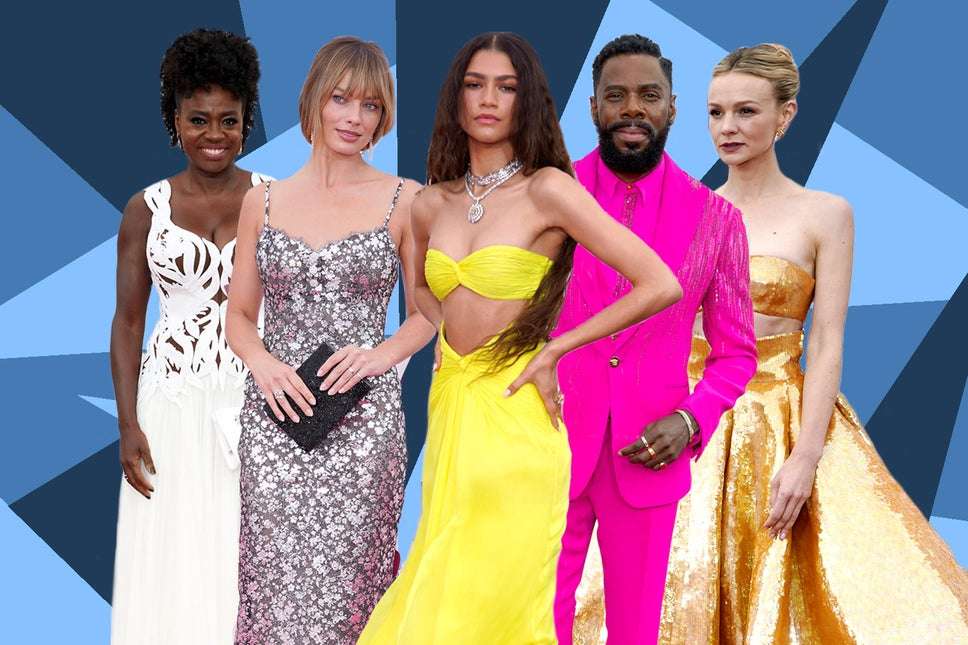 Oscars is that one event everyone looks forward to, and during the pandemic, people were more determined to see what are these celebrities are on and about. Oscars 2021 took place recently and it was definitely as star studded as it could be. Fans are going crazy as all celebrities trend on different platforms.
It was the biggest night in the entertainment world, Oscars 2021, 93rd Academy Awards, were fabulous as always, magical and wow we are obsessed aren't we? The Awards took place on Sunday April 2021, this year  Oscars 2021 paid tribute to all the precious lives we lost this year, phenomenal actors, artists and filmmakers who were gone too soon and left a remarkable impact on this industry.
Here are few of the celebrities who stole the show this year at Oscars 2021:
Number 1: Zendaya in Valentino
The most gorgeous and the beautiful Zendaya who has been my all time favourite walked the carpet in a beautiful long neon- yellow Valentino dress making her way through the awards. She was a presenter at the ceremony and she completed her look with diamond ranging over 36 millions dollars and above 184 carat worth of jewels. Who isn't obsessed with her Valentino right?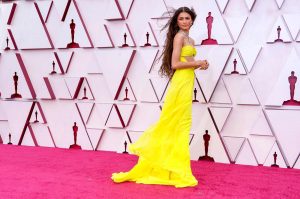 Number 2 : Regina King in Louis Vuitton
The queen and the evergreen, the bold and beautiful, Regina King walked down the carpet in a stunning Louti Vutton outfit, in a sky blue flared gown really stood out at this Oscars 2021. Regina King is known for her brilliant acting and have been nominated for various awards over the years. This year she was chosen to   host and inaugurated the ceremony and presented two opening awards.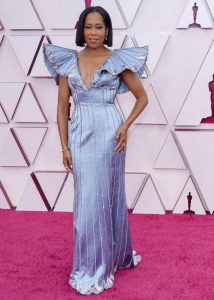 Number 3 : Alan Kim in Thom Browne
Alan Kim was definitely the star of the entire evening, Oscars 2021. The 9 years old was the light of the evening as he was caught on camera earlier in the night when he started dancing on the red carpet.  social media after he was caught dancing on the red carpet. This little boy gave us major outfit goals this evening in a black suit with shorts, we have never seen that before on an award night haven't we? He definitely knows how to be on top of the game, giving other celebrities a high competition.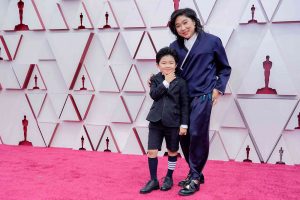 Number 4 : Riz Ahmed in Prada
He has to be on our top list, Pakistani artist, Riz Ahmed stole his fans heart by a very sweet and romantic gesture, he was caught fixing his wife hair on the carpet in between the photography session, we are in complete awe aren't we? Well, Riz Ahmed chose to wear Prada this Oscars 2021, definitely one of the best, a navy blue tuxedo is all we need to complete that entire look.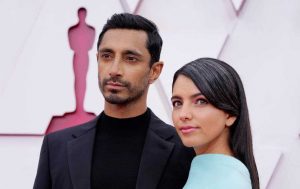 Best Actress: Frances McDormand
Oscars 2021 was definitely something we all needed in the middle of pandemic, the award which we all were eagerly waiting to know was won by none other than one of the best and winning an Oscar for the best actress category third time in a row was Frances McDormand for Nomadland. A brilliant actor, phenomenal acting, and phenomneal role played by Frances lead to her being the star of the night and taking the Oscar home.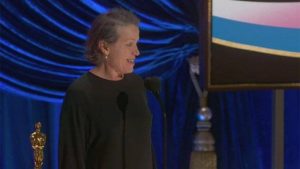 Who doesn't love the Oscars right? Good vibes and definitely a mood lightener this weekend, let us know in the comments section below which was your favourite look this Oscars 2021.