Eating healthy is a choice not a diet, educate yourself. In modern day and time, we have become highly aware of the things that are beneficial for us. The food industry has grown quite tremendously and there have been new discoveries in terms of ingredients that are full of antioxidants, nutrients, minerals, and essential vitamins.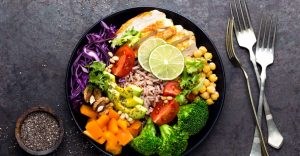 The superfood wave is one no one can forget and enabled many people to elevate their eating habits and improve their daily lifestyle. Now, as someone that has been dealing with PCOS since the last decade, it becomes quite difficult for me to manage my routine and weight if I don't consume an all organic and natural meal. Struggling with my health has been one of the biggest battles that I have gone through. From using unconventional methods to lose weight, to starving myself until I became sick, it has truly been a challenge. What I did learn during this time was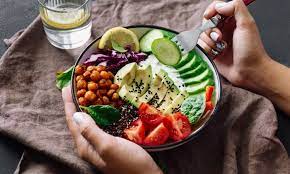 not to deprive the body of essential nutrients such as protein, fats, carbs, or minerals otherwise it is bound to have a reverse reaction.
The best solution I derived to maintain my health was to start prepping my meals. Eating clean does not mean you are on a 'DIET'. It just means you value your health more than anything and that is something to be appreciated for sure.
Here is a breakdown of my day which includes what I eat for breakfast, lunch, snacks, and dinner!
Chia Seed Bowl – Breakfast
This is one of my favourite breakfasts which is not only quite scrumptious but contains antioxidants and is a great way to start your day!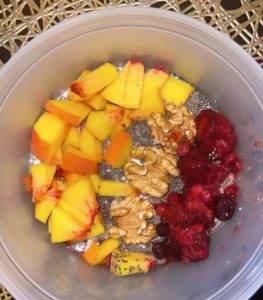 You will need:
1 cup Greek Yoghurt
½ of a Peach
¼ cup Mixed Berries
1 ½ tbsp of Chia Seeds
2-3 Walnuts
1 tsp Honey
Decorate your bowl with these colourful ingredients and dive right into a delicious breakfast!
Kidney Beans Curry with Rice – Lunch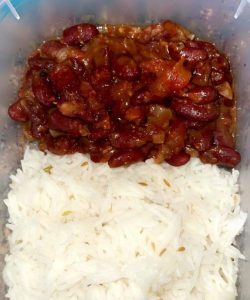 When it comes to lunch and you are working or studying, this option is an excellent choice which not only fills you up but is high in protein.
You will need:
1 Can of Kidney Beans
1 Tomato
1 Onion
½ tbsp Pepper
½ tbsp Crushed Red Chillis
Salt (According to taste)
1 tbsp Karhai Masala
1 tsp Crushed Garlic
Start with frying up your onions, garlic, and tomato until soft. Add crushed all the spices and form a mixture. Then, add your beans and half a cup water and let it simmer over a medium heat for 15 minutes until soft. Serve with either white/brown rice or quinoa
Salad Bowl – Snacks
You will need:
Iceberg Lettuce
Cucumber
Black Olives
Beetroot
Dill
Olive Oil
Lemon
Salt
Pepper
Just chop it all and combine. Enjoy as a quick evening snack with a dill and olive oil dressing, all natural and super healthy!
Tandoori Creamy Chicken – Dinner
This is a quick and easy recipe that is full of protein and tastes divine.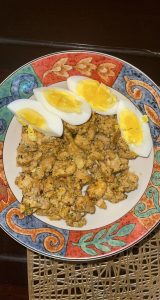 You will need:
250 grams Chicken Breast
1 Boiled Egg
¼ Cup of Cream
1 tsp Mustard
1 tsp Crushed Red Chilli
1 tsp Pepper
1 tsp Salt
1 tsp Parsley
1 tsp Garlic Granules
1 tsp Tandoori Masala
Add olive oil, then the chicken to your skillet and fry until golden. Once that is done, add all your spices, mustard, and cream. Story until combined thoroughly. Once your chicken is cooked through, top it with some parsley and boiled eggs and it's ready to go!
I hope these recipes that are quick, efficient, and super healthy surely encourage you to try them out.
Until next time!