Post pandemic world of travelling
Travelling is quite an integral part of living your life to the fullest.

The world is graced with so many beautiful destinations that a lifetime may seem too little to explore every place around us.  The beauty of travelling lies in discovering new spaces with ethereal sights and learning about unknown cultures and their traditions. Food is a major element of the entire experience along with music and local rituals.
The pandemic hit us hard during the last two years and many of us were unable to travel around with extreme restrictions that were implemented due to the overall safety concerns. Graduation trips were cancelled, honeymoons were rescheduled, globetrotters had to take a break from ticking off places on their bucket lists while influencers missed out on posting their adventurous selfies with the hashtag #travelgoals.
Pack your bags and get ready to travel!
Now that things are restoring back towards normal, there has been a slight leniency from the government to travel as long as you are vaccinated and not at risk of infecting others.
This opens doors for all those couples who have been waiting to go on their dream honeymoons and the choices are endless. For a couple, the main attractive feature when it comes to finalising a destination, is the picturesque scenery as well as the element of comfort and bliss.
Here are a few destinations which I feel may be the perfect choice when it comes to spending your time with your loved ones while truly relaxing and just embracing the environment around you. All you beach lovers, get ready to unearth these beautiful places and make the most of your honeymoon!
1. Bora Bora, French Polynesia
This spectacular island is located right next to the vibrant city of Tahiti, Bora Bora has always been the ideal choice for many celebrities when it comes to getting off the grid and just losing yourself amongst the beauty of this island with unlimited spa sessions, soaking in the warm sunny weather on the white sand beaches of Matira, enjoying the lagoons and spend their time indulging in water sports such as sailing and snorkeling. This French Polynesian island is certainly a top pick!
2. Bali, Indonesia
We all know that Bali is truly a piece of heaven hidden away in Indonesia. A hip, stylish, fashionable yet traditional place that makes you feel no less than royalty. Rice paddies, marine parks, stretches of pristine beaches and of course mesmerising sunsets. Explore Bali on your next trip and it will be a journey that one cannot forget.
3. Amalfi Coast, Italy
Looking for a destination that feels like you're in the movies? Well, look no further, Amalfi Coast in Italy is bound to leave you speechless! With it's breath taking views, old Italian culture, colourful houses and clear blue waters, it is the perfect place to enjoy your time with your beau. The candlelit dinners by the sea will surely lift your spirits and make you never want to leave.
4. Mahé, Seychelles
Those of us who want the most luxurious experience with top notch restaurants, unmatched views and blissful environment, Seychelles should be your priority. Mahé is the most happening place to be. The most favourable season to visit Seychelles is during the spring and you can make the most of the opulent yacht trips, helicopter rides and nights away where you simply gaze at the stars and stare into the eyes of your loved ones during candlelit dinners.
5. Santorini, Greece
Greece is quite the place to be if you're looking for the perfect balance between city life and the bliss of being by the vast beauty of an island. Santorini has been quite a popular destination and a great way to unwind with your partner, exploring the blue and white structured landscape with its luxurious accommodations, clifftop spas and restaurants. You can also travel to surrounding islands such as Kos and Mykonos to experience the vibrant nightlife and one of a kind water sports!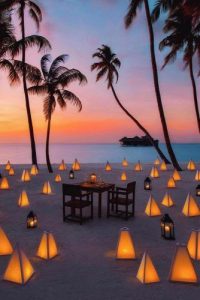 I know, I know, learning about these destinations may make you feel like booking a flight, packing your bags, and just flying away to take some time off from the chaos of our day to day lives. It certainly is satisfying to think of and plan a wonderful vacation with your sweetie and you certainly should!
However, remember to get jabbed and ensure you both are safe so you can make the most of your trip, basking away in the warm sun by the beaches and just living carefree! Don't forget to post your Instagram pictures with the hashtag #travelgoals!
Until next time!