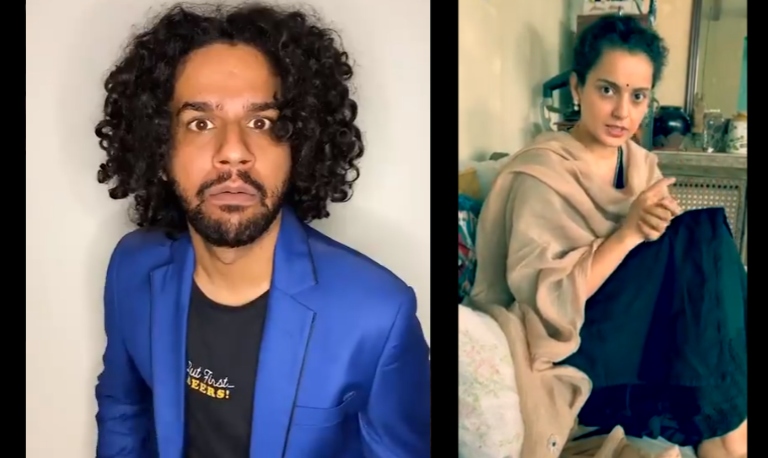 Kangana Ranaut is now seen with viral and bold statements regarding social and political issues that go viral from her social media accounts to public press conferences. This time again, the actress was taken in light by our very favourite Ali Gul Pir, who once again took a dig at the actress after she was seen calling out 'foreign daddies' for showing the 'wrong image of India' and how the coronavirus crisis of the country is being highlighted on international media channels across the world. 
"India is shown as if its people have just evolved from monkeys to humans. They behave as if a few white people must come and make you their slaves, tell you what to do, how to behave, eat, tell you what a democracy is, whom to choose, you just don't have the sense to do what is right. So we will tell you what to do," she said in her video. 
Soon after the bollywood star gave her stance on the recent hype of Covid in India, Ali Gul Pir came about with his hilarious and on-point version of the same. However, taking the video on a very light note, fans along with Kangana herself kaughed about the video makeover on Twitter. "Apa Kangana reminds us of the dangers of news reporting by comparing it to a pandemic. If news stops, deaths will too!" the rapper tweeted.
The Queen star responded, "At least you are funny and made me laugh."
Ali then wrote, "Well we might disagree on many things but at least we can laugh together."
This is not the first time the two had engaged in Twitter banter. In February, the 33-year-old actor reacted to a video of Canada's New Democratic Party leader Jagmeet Singh and spoke about his connection to the Grammy Award-winning singer. "This terrorist is porn singer Rihanna's friend. He is accused of funding terroristic activities. There is a Khalistan in his head also. A porn star followed him and that's his biggest achievement #IndiaTogether #IndiaAgaistPropoganda," she tweeted.
Funny, as always, Ali was quick to throw shade at her remark. "Porn singer? Is that a singer who makes music for porn films only. They will refuse to sing for normal films? Please explain further. I didn't know such a niche existed, just curious," he asked.
Unfamiliar with his tongue-in-cheek humour, the Manikarnika star replied, "Someone who can't sell music without making it sensual/adult, unlike classical and genuine singers where body is of no consequence. A porn singer is hugely dependent on his/her flesh show of private parts exposure and mediocre talent. This makes them absolutely massy, and junk."
To this, the rapper tweeted back saying, "Oh okay! I understand. Like someone who doesn't have talent, hasn't done much work and relies on controversy and putting people down to stay in the news. Thanks for clearing it out for me #GoKangana #DiePoorFarmers."
Well, comparing both incidents today, its good to see the two stars taking the dig lightly this time around. What do you think of the remake by Ali Gul Pir. Share your thoughts!