Machine Gun Kelly and Megan Fox are engaged, about a year and a half after making their relationship official. The musician's proposal on Tuesday featured a banyan tree, a heart-shaped ring with two gems, and, well, a blood pact.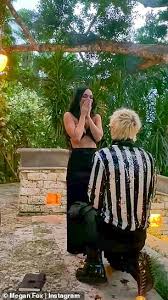 Machine Gun Kelly showed off the Transformers star's stunning engagement ring which featured a diamond and emerald in honor of their respective birthstones. He proposed 'beneath the same branches we fell in love under' and he had 'brought her back to ask her to marry me.' The punk rocker also shared a slow motion video of him and Megan falling backwards onto a bed with red rose petals placed on top of it in the shape of a heart.
This will mark the second engagement from Megan, who was famously engaged to and later married actor Brian Austin Green in 2010.